Ellison Institute Taps Crew for Collaboration
Diverse specialties work together in molecular-driven medicine
Friday, October 12, 2018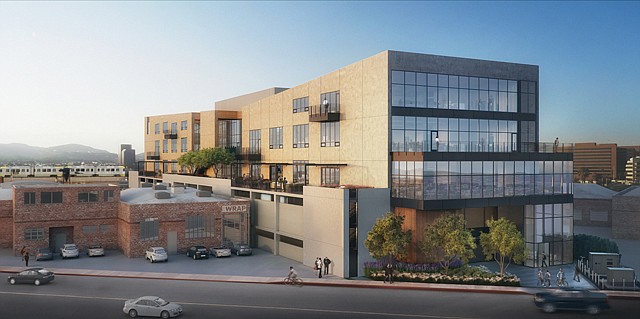 A$200-million USC cancer research center now being built with support by Oracle Corp. founder Larry Ellison has named 10 core faculty and founding institute members.
The Lawrence J. Ellison Institute for Transformative Medicine of USC has announced a founding faculty that includes biophysicists, chemists, engineers, computer scientists, health economists, pathologists and physician scientists.
They join an emerging trend of interdisciplinary collaboration taking place at USC and other universities where teams of academics with diverse specialties plan to focus on team research and science that includes academic-industry partnerships.
The new Ellison Institute staked a claim to the trend as it gets ready to make a bid to transform the nature of cancer research.
"By working together, we will change the way we treat and prevent cancer," said David Agus, the institute's founding director, in a statement.
The Ellison Institute will occupy a 79,000-square-foot medical building now being constructed at 12414 Exposition Blvd., near Metro's Expo/Bundy Station in Sawtelle.
The three-story research center, developed by the Los Angeles-based Luzzatto Co. Inc., was designed by HLW International, of New York, with interiors and landscaping designed by Rios Clementi Hale Studios, based in Leimert Park. It is expected to open in May.
The institute's newly assembled founding faculty roster includes chemical engineers Andrea Armani and Stacey Finley; biophysicist Scott Fraser; health economist Dana Goldman; computer scientists Carl Kesselman and Fei Sha; chemist Charles McKenna; mathematician and physicist Paul Newton; and pathologist Michael Press.
"The Ellison Institute offers extraordinary opportunities to collaborate and reimagine research and clinical care for patients in the modern era of molecular-driven medicine," said Jerry S.H. Lee, its chief science and innovation officer, in a statement. "I am thrilled to add these long-time collaborators."
Home Health Highlighted
Insurers are vying for new business by calling attention to enhanced community and home-care services as the health insurance enrollment period nears this fall.
Anthem Blue Cross, an Anthem Inc. subsidiary based in Thousand Oaks, announced this month it would expand its 2019 Medicare Advantage offerings to include healthy meals delivered at home, visits to help reduce loneliness, personal home helpers, respite care, pain management and rides to doctor's appointments and back.
Blue Shield of California and its Monrovia-based subsidiary, Care1st Health Plan, announced this month an agreement with Landmark Health, of Huntington Beach, to expand home-based care.
The added home care will serve an estimated 8,000 Medi-Cal and commercial patients with chronic or complex illnesses served by Care1st Health Plan and Blue Shield across Los Angeles and Orange counties at no extra cost, company officials say.
Prev Next
For reprint and licensing requests for this article, CLICK HERE.