Centered on Sunset
Strip redevelopment seen as providing WeHo anchor
Friday, October 12, 2018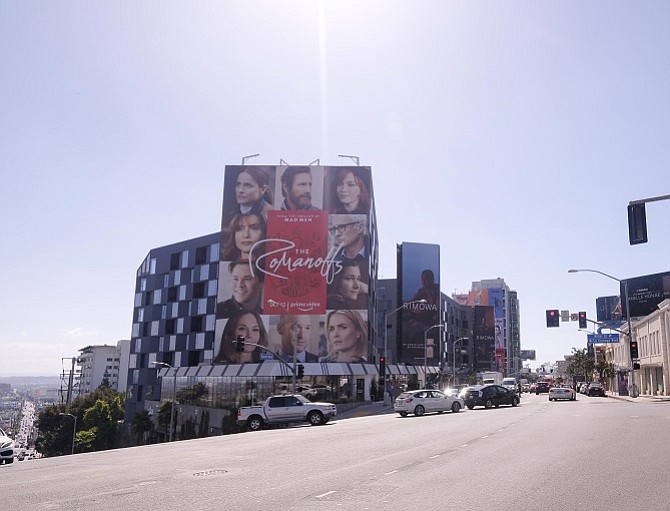 A wave of hotels, luxury mixed-use projects, big-name retail and rising lease rates on office space point to the Sunset Strip's burgeoning status as the epicenter of West Hollywood.
The small, 1.89-square-mile city wedged between Beverly Hills and Hollywood has many hipster hangs tucked in walkable pockets, but some real estate brokers claim it's lacked an anchor point. As much as a tiny town can be spread out, West Hollywood is.
"We're finally seeing it kind of mold into place," Colliers International Vice President Gabe Kadosh said of the Sunset Strip. "I compare it to downtown L.A. People don't know where the epicenter is. I think Sunset is now shaping up to be the epicenter of West Hollywood."
This new designation comes as the Strip experiences an extended and dramatic makeover from its days as the epicenter of the rock 'n' roll world. While legendary sites such as Viper Room and Whiskey a Go Go remain, other venerable venues, such as the House of Blues, have closed to make way for glistening high-rises.
The arrival of Fred Segal, which signed a 22,000-square-foot lease in December 2016, helped raise the area's profile as a revived center for retail destinations and was an attention-grabbing transplant from the trendy Melrose Avenue shopping district.
Fred Segal chose as its new flagship location the Korman Communities- and Brookfield Property Group-owned 8500 Sunset building, which also includes 190 rental units.
Creative office giant Kilroy Realty Corp.'s $210-million acquisition in 2017 of a 179,000-square foot mixed-used development with a 10-story office tower, three retail buildings, a 930-space parking garage as well as three billboards – known as the Sunset – also is helping to attract new clientele that may have bypassed the Strip in the past. Retail offerings include an Equinox Holdings Inc. gym and a Hennes & Mauritz (H&M) clothing store.
Other mixed-use hotel compounds will continue to rise. The Jeremy at the corner of Sunset and La Cienega Boulevard opened in August 2017, and the Pendry Hotel in developer Combined Properties Inc.'s Sunset Time project plus three more hotels with retail space are under construction or working their way through city approvals. Once complete, the address named 8950, the Charles Sunset Tower at 9034, and
The Edition at 9040, will add to Sunset Boulevard a combined 693 hotel rooms, along with bars, restaurants, and luxury residential spaces. The Strip currently has 1,190 hotel rooms.
Contentious times
Changes like these come slowly amid years of cranes and detours along the highly trafficked boulevard, often prompting complaints – and sometimes legal battles – over the Strip's redevelopment into a walkable hub of mixed-use complexes. A Frank Gehry-designed five-building complex at
the corner of Sunset and Crescent Heights Boulevard was one of the more controversial projects. Conservationists objected to the demolition of a historic building at the 8150 Sunset Blvd. site, and West Hollywood denizens of all stripes worried about increases in traffic. But a lawsuit filed by opponents of the project appears to have met its demise earlier this month, with a judge lifting an injunction against the developer Townscape Partners.
Other landmarks that are already on the chopping block, or could be in the near future, include Viper Room and House of Blues. The Viper Room was sold in June to a Scottsdale, Ariz.-based LLC, whose representative told the Business Journal in July there were no plans at that time to redevelop the site.
The former House of Blues has had no such reprieve – the site of the iconic club is already unrecognizable as construction on the Sunset Time project continues.
Sunset Time includes the 149-room Pendry Hotel as well as 40 residential units and 25,000 square feet of retail space. The development is a major stylistic departure from the swampy, artfully dilapidated cool of the low structure that once sat there and hosted rootsy blues and rock shows. The Olive Drive side of the ultra-modern hotel will display a 5,950-square-foot digital sign, according to the developer's website.
Lease rates rise
The protests of hair metal enthusiasts and NIMBYs alike are falling on deaf ears in the real estate community, however, where brokers said Sunset Strip lease prices are climbing on both retail and office space.
Kadosh has seen the price per square foot on retail leases along the Strip proper – the stretch of Sunset Boulevard between Sierra Drive and Crescent Heights Boulevard – increase about 10 percent in the last year. Leasing rates in most areas in Los Angeles typically see around a 3 percent increase year over year.
Kadosh said incoming tenants right now will pay between $4 and $8 per square foot, with the exception of the Sunset Plaza, where rents go into the $12 range. At Kadosh's own retail listing just past the eastern border of the Strip at 7950 Sunset Boulevard, the Flavor of India restaurant signed in the mid-$5 range.
John Tronson, a Principal at Avison Young, estimates office leasing rates have jumped about 20 percent in the last 18 months.
He just closed a lease at 8733 Sunset Boulevard at $6.50 per square foot, the highest he's yet closed on the Strip. Office rents, however, have increased throughout Southern California, and prices along the Strip are bolstered by constrained supply.
"It's always been considered a superior location, but there's very little creative office," Tronson said. "(Developers have) done a nice
job turning (properties) into Class A buildings, but they're not what creative tenants want."
Tronson estimates that a truly out-of-the-box departure from the area's staid high-rise office space could fetch $10 per square foot. And he believes it's coming, for the same reason the Sunset Strip will be fully redeveloped with unique ideas: an only-in-L.A. combination.
"I always look at it as where money meets creativity," Tronson said, noting the wealthy crowd living both above the Strip in the Hollywood
Hills and below it in the Beverly Hills flats. "It's all the affluent people who have access to capital, who would much rather come down to the Strip where there's just much more happening."
For reprint and licensing requests for this article, CLICK HERE.