CFO Awards 2018: How to Prepare Future Financial Stewards for an Evolving Marketplace
Custom Content by the Los Angeles Business Journal
Tuesday, October 2, 2018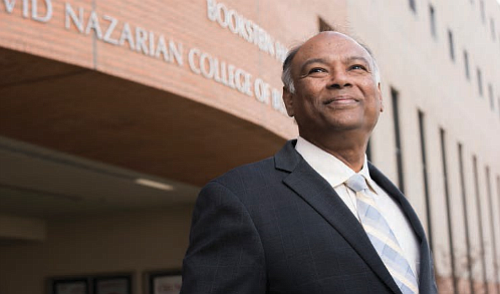 Last year, Dr. Joseph Aoun, president of Northeastern University, referenced the coming of a revolution. His book, "Robot Proof - Higher Education in the Age of Artificial Intelligence," discusses how the world of business is changing significantly, especially with the increasing presence of technology in today's business activities.
Just take a look around you, it is clear that the future of business is already here – whether through autonomous vehicles, big data, 3-D printing, virtual and augmented reality and other technologies. For example, Tesla recently announced the rollout of their Version 9 full, self-driving cars in August. While the vehicles still require a driver with their hands on the steering wheel, the introduction of a full, self-driving vehicle, where a driver is not needed, is inevitable. Consequently, advances like this will change how and what is taught in academic courses related to business models. This will include home and residential real estate construction, when large parking spaces become unnecessary and global supply chain, when vehicles can be sent across the nation, coast to coast without required rest breaks other than for gas or electricity.
Another example, is the large number of accounting, financial and insurance companies pursuing blockchain technology. The technology can be used to speed up and simplify cross border payments, allowing greater trade accuracy, and a shorter settlement process. In addition, there is the possibility of using smart contracts, making commercial transactions automatic and improving online identity management, where the transaction itself is traceable, but not the participant. While most of the recent uses of blockchain have appeared in for-profit industries, there is potential for an even greater impact in the non-profit world. For example, the city of Austin, Texas is piloting a blockchain platform for identity services with its homeless population, which will improve the ability of the city to offer integrated and comprehensive aid to marginal populations, including the homeless and refugees. Similarly, the Institute for the Future won an award for a paper that outlined the use of a blockchain platform to create smart health profiles to ensure easy access to health services for Medicare patients, while maintaining privacy and reducing cost.
The question facing the David Nazarian College of Business and Economics and higher education, is how to prepare students for this evolving marketplace. First, it is important that students gain an understanding of data and technological literacy early on. While most students are digital natives, they need to know how to read, analyze, and interpret this constant flow of information and to adapt to living and working in a constant stream of big data, connectivity and information immediacy.
For the world of tomorrow, students need to be robot-proof, which implies that they need to think creatively, innovatively and critically. Furthermore, students must be collaborative, especially across disciplines, and have cultural agility to increase global thinking.
Beyond these efforts, the Nazarian College has already held two symposia on blockchain and is now in the process of organizing a conference with the creators and users of technology. The Nazarian College has also been named as one of the ten inaugural Alexa Innovation Foundation Universities. Participation in the Alexa project will allow Nazarian entrepreneurship students to develop the skills and tools to be creative and drive innovation with voice-enabled technology. Opportunities to study abroad have also become more attainable for students through the Nazarian College subsidizing their travel costs.
Changes in curriculum and professional development are now paramount. According to a report published in 2017 by Dell Technologies, business is changing so quickly that 85% of the jobs that will exist in 2030 haven't even been invented yet. On that note, the ability to gain new knowledge will be more valuable than the knowledge itself. In other words, beyond teaching standard business curriculum, it is crucial that today's students are prepared for technological changes with a lifetime of skills training and retraining, in real time.
Dr. Chandra Subramaniam is the dean of the David Nazarian College of Business and Economics at CSUN. He received his Ph.D.in Accounting from the University of Minnesota.
For reprint and licensing requests for this article, CLICK HERE.