Salad Shop Turns to Tech
Restaurants: Sweetgreen plans blockchain rollout
Friday, November 30, 2018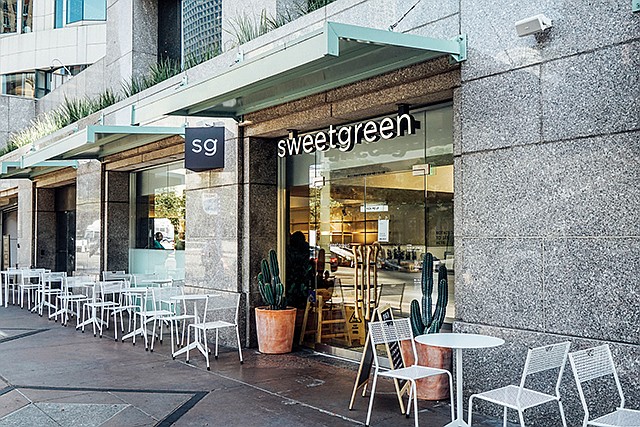 After raising $200 million in a Series H round, Culver City-based fast-casual restaurant chain Sweetgreen Inc. plans to invest heavily in blockchain technology to solidify its supply chain operations.
For a company that makes salads, an investment into the technology best known as the structural underpinning of bitcoin might seem strange, but Sweetgreen's strategy involves securing a rapidly expanding supply chain, not a sudden turn into the cryptocurrency market. Blockchain technology essentially is a ledger system that allows data to be digitally recorded, tracked and distributed but not edited, which can be helpful for a growing company with a complex supply chain. 
"For food, real-time traceability is powerful," Nicolas Jammet, chief concept officer and co-founder of Sweetgreen, said. "In today's world, customers are more thoughtful, aware and conscious about where their food comes from and being able to share that information with them is key."
Having it built into the company's infrastructure is key as the company grows. Sweetgreen currently has 90 location and more than 4,000 employees. There's also more pressure on the company after the recent funding round, which valued it at $1 billion, putting it in the rarified air of so-called unicorns such as Uber Technologies Inc., Lyft Inc., and Airbnb Inc.
The latest round of Sweetgreen's funding was led by Fidelity Investments Inc. and brings the restaurant's total funding to $365 million. The salad chain was founded in 2007 in Washington, D.C., and relocated its headquarters to Culver City in February 2015. Jammet declined to provide Sweetgreen's revenue figures.
Industry impact
Restaurants including Sweetgreen are increasingly using the technology to track everything from payments and customer habits to food authenticity and safety, and supply chain efficiency.
"This (move to blockchain technology) makes sense. Sweetgreen is looking to increase transparency in its operations," said Marta Belcher, an attorney at the East Palo Alto offices of law firm Ropes & Gray. Belcher specializes in and has clients in the blockchain space, including the Digital Asset Trade Association, an advocacy group for blockchain.
The benefit of using blockchain technology for the restaurant industry is that a lot of disparate sets of data and moving pieces can be collected and streamlined without worrying if they have been altered, according to Ron Galloway, founder of 818 Research, an investment advisory firm in Augusta, Ga.
"It'll lock down supply chain purity," he said. "Being able to track the produce all the way along the supply chain and pinpoint cases of contamination more quickly is why we're seeing more food companies do this."
Prev Next
For reprint and licensing requests for this article, CLICK HERE.