No Vacancy
Well-heeled companies lock in leases at projects still under construction
Friday, November 30, 2018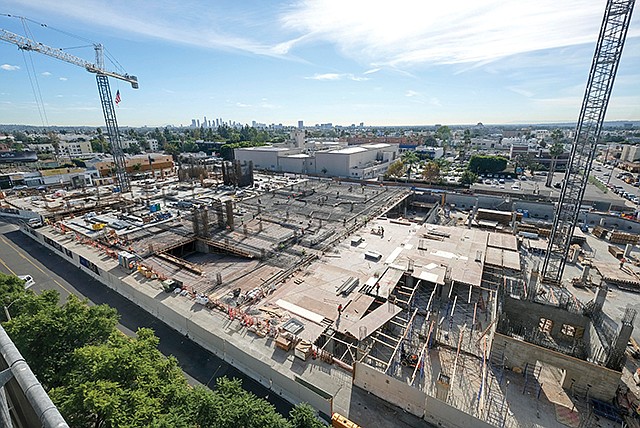 Large blocks of creative work space in Los Angeles are in such high demand that many big companies are signing leases for offices that don't yet exist.
Amazon.com Inc., Apple Inc. and Netflix Inc. are among the companies that have preleased office space in buildings still under construction – some as much as a year and a half ahead of expected completion dates.
"The development community got caught off guard over the demand," said Jones Lang LaSalle Inc.'s International Director Carl Muhlstein. He said there's currently about 2 million square feet of new office space under construction, but demand is roughly double that.
People involved in the so-called prelease deals declined to provide details such as whether future tenants were paying rent or a down payment for the not-yet-completed properties.
Muhlstein represented developer Georgetown Co. on a recent prelease deal with Arizona State University. ASU is expected to move into the Herald Examiner Building in 2020 after the downtown structure undergoes extensive renovations. ASU will occupy around 80,000 square feet of the 100,000-square-foot building.
CBRE Group Inc.'s Senior Vice President Scott Steuber said companies looking to grow their footprint have had to sign prelease agreements as many as 18 to 24 months out, especially in desirable areas.
"You can find large pockets here and there where there's a high-rise supply, but if you want to be in some of these hotter markets such as Hollywood, Culver City or the Arts District, that large building supply doesn't exist," Steuber said.
Streaming giant Netflix has its sights set on Hollywood. It recently signed a lease for the entire 355,000-square-foot commercial space at Kilroy Realty Corp.'s Academy on Vine project. The under-construction building is adjacent to the Academy of Motion Picture Arts and Sciences' Pickford Center and the ArcLight Hollywood. Netflix is expected to move into the building in mid-2020.
It previously also signed a prelease for creative office space at Epic, a 13-story Hudson Pacific Properties development in Hollywood. That building is expected to be completed in 2020, and Netflix has signed an 11-year lease, according Hudson Pacific. Netflix already occupies 418,000 square feet at Hudson Pacific's Sunset Bronson Studios, also in Hollywood.
Hudson Pacific Chief Executive Victor Coleman said preleasing is relatively new to L.A. With so many projects now under construction, and with the possibility that construction and land costs could rise, tenants are chomping at the bit to secure the space they need.
Prev Next
For reprint and licensing requests for this article, CLICK HERE.