No Vacancy
Well-heeled companies lock in leases at projects still under construction
Friday, November 30, 2018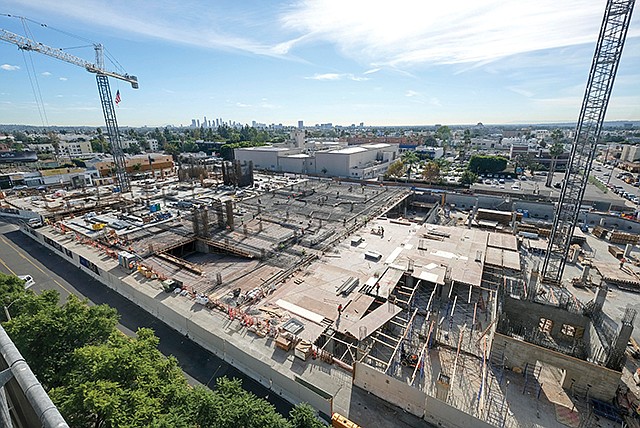 Large blocks of creative work space in Los Angeles are in such high demand that many big companies are signing leases for offices that don't yet exist.
Amazon.com Inc., Apple Inc. and Netflix Inc. are among the companies that have preleased office space in buildings still under construction – some as much as a year and a half ahead of expected completion dates.
"The development community got caught off guard over the demand," said Jones Lang LaSalle Inc.'s International Director Carl Muhlstein. He said there's currently about 2 million square feet of new office space under construction, but demand is roughly double that.
People involved in the so-called prelease deals declined to provide details such as whether future tenants were paying rent or a down payment for the not-yet-completed properties.
Muhlstein represented developer Georgetown Co. on a recent prelease deal with Arizona State University. ASU is expected to move into the Herald Examiner Building in 2020 after the downtown structure undergoes extensive renovations. ASU will occupy around 80,000 square feet of the 100,000-square-foot building.
CBRE Group Inc.'s Senior Vice President Scott Steuber said companies looking to grow their footprint have had to sign prelease agreements as many as 18 to 24 months out, especially in desirable areas.
"You can find large pockets here and there where there's a high-rise supply, but if you want to be in some of these hotter markets such as Hollywood, Culver City or the Arts District, that large building supply doesn't exist," Steuber said.
Streaming giant Netflix has its sights set on Hollywood. It recently signed a lease for the entire 355,000-square-foot commercial space at Kilroy Realty Corp.'s Academy on Vine project. The under-construction building is adjacent to the Academy of Motion Picture Arts and Sciences' Pickford Center and the ArcLight Hollywood. Netflix is expected to move into the building in mid-2020.
It previously also signed a prelease for creative office space at Epic, a 13-story Hudson Pacific Properties development in Hollywood. That building is expected to be completed in 2020, and Netflix has signed an 11-year lease, according Hudson Pacific. Netflix already occupies 418,000 square feet at Hudson Pacific's Sunset Bronson Studios, also in Hollywood.
Hudson Pacific Chief Executive Victor Coleman said preleasing is relatively new to L.A. With so many projects now under construction, and with the possibility that construction and land costs could rise, tenants are chomping at the bit to secure the space they need.
"When you are preleasing that far in advance, you are probably not expecting a discount. You are just making sure you are first in line," said Mark Sullivan, Southern California regional manager at Savills Studley.
Sullivan said preleasing offers advantages for developers and their financial backers.
"The rents these new projects demand can justify the cost of construction," said CBRE's Steuber.
Top tenants
Brokers and developers say they're looking for a special kind of tenant to agree to a prelease: They need to have a good reputation and be large enough to occupy a significant portion of the property under development.
Steuber said the tenants engaging in preleasing "have attractive operational history and are known entities with perceived good credit."
"When that happens, you are going to get landlords that are very interested in securing them as tenants," he added.
Thus far, the tenants that have preleased buildings have largely been major media and tech companies.
Tech giant Apple has preleased all 128,000 square feet of office space in a development under construction at the corner of Washington and National boulevards in Culver City. The building will also have ground-level retail.
Amazon has preleased properties in Culver City as well. Last year, the company announced plans to occupy the Culver Studios complex after an extensive remodel. Amazon moved into the facility this year.
Amazon also announced this year plans to occupy 75,000 square feet of the Culver Steps development across the street from Culver Studios. Culver Steps is expected to open in 2019.
Tenants who prelease early also have the benefit of being able to drive the project to fit their needs, Sullivan and Steuber said.
The tenants, however, take some risk if their hiring projections and future planning do not go according to plan.
Happening elsewhere
Preleasing is a relatively new phenomenon in L.A.'s commercial real estate market.
This city's original media companies – the movie studios – built and owned their own lots, Muhlstein, of Jones Lang LaSalle, said. But office development and construction has changed a lot since the original Hollywood boom.
Los Angeles is no longer just a company town. Industries from manufacturing to health care, government and professional services are growing, squeezing the available office supply in every business district.
Preleasing, or "defensive leasing of office space," has been common in cities like San Francisco for a while, Steuber said, and now it's making its way to L.A. as companies and industries grow.
"In order for them to continue to be able to hire at the pace that they are hiring, they need to go out and at times secure office space ahead of the forecasted need for that office space in order to prevent one of their competitors from taking that same space," Steuber said.
Special properties
Some experts say L.A.'s preleasing trend is a reaction to a unique kind of property now coming on the market – namely, large-scale spaces designed for creative occupants and located in desirable neighborhoods.
James Malone, the senior managing director of Colliers International in Los Angeles, said most of the preleases thus far have been unique opportunities for companies with scale.
"There are any number of buildings being repositioned and coming out of the ground that have had success and others that are still waiting," he said.
"I don't think it's going to be commonplace," said Mike Condon Jr., executive managing director of Cushman & Wakefield Inc. "L.A. is a big tenant market. There's not much of a need for preleasing."
The projects that have had luck preleasing "are overly special buildings, above and beyond unique," he said.
Forward look
While it may sound risky to sign a lease on property that doesn't exist, Muhlstein said that at the moment, it might actually be riskier not to.
Most local commercial markets are reaching single-digit vacancies, he said. "If you take a risk and don't prelease, you might not have quality expansion options for years."
Some brokers and developers said if L.A. remains a desirable place to do business, preleasing will continue.
"L.A. is becoming more popular in the eyes of fast-growing companies," Steuber said.
For reprint and licensing requests for this article, CLICK HERE.