Hyperloop Hub: Virgin Hyperloop Headlines Futuristic Transportation Tech's L.A. Ties
Innovation Special Report
Friday, November 23, 2018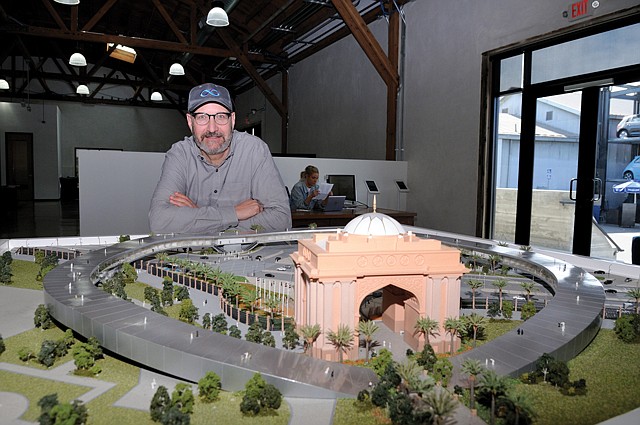 Virgin Hyperloop One
Industry: Transportation
Year Founded: 2014
Location: Downtown
2017 Revenue: Would not disclose
Total Funds Raised: Between $300 million and $350 million
Imagine sitting in a pod with several other passengers, speeding through a tunnel at nearly airplane speeds, propelled by powerful motors. There's little noise and even less pollution.
At Virgin Hyperloop One, a downtown transportation company, this vision is slowly becoming reality. The company, launched four years ago from a garage in Los Feliz, has completed what it claims to be the world's first operational hyperloop system: a one-third-milelong test track outside Las Vegas that opened last year. The hyperloop pod has reached a top speed of 240 miles per hour; only the short length of the track prevented it from going faster.
And the company is now trying to secure an agreement to build the first hyperloop track to connect two population centers, traversing the 60 miles between Mumbai and Pune in India. If an agreement is reached, a 7-mile test track could be completed within two years, and the entire tunnel system a few years after that.
It's all part of a plan to revolutionize travel and goods movement over distances between 50 and 500 miles.
"In a nutshell, we have not really had a new form of mass transportation in over 100 years," said Jay Walder, the new chief executive of Virgin Hyperloop One. "Hyperloop is a new way of imagining travel that connects cities and urban areas much more tightly and closely. The benefits of that can be realized in both passenger travel and also cargo movement. It's an extremely fast, on-demand form of travel."
The hyperloop system uses electric motors to propel passenger or cargo pods to speeds of several hundred miles per hour through tunnels that have had most of the air evacuated to reduce aerodynamic drag. Magnetic levitation is used to keep the pods suspended off the bottom of the tunnel to allow for faster movement than conventional wheeled vehicles can achieve.
Old idea, new life
The concept of high-speed train travel through vacuum tubes or tunnels has been around for more than a century; according to Virgin Hyperloop One's website, rocket pioneer Robert Goddard sketched out the concept in 1909. But the concept mostly languished until Elon Musk, the billionaire founder of Tesla Inc. and Space Exploration Technologies Corp. (SpaceX) released a white paper in 2013 claiming hyperloop technology using low-pressure tunnels should be used to connect urban areas within 900 miles of each other and called it a preferred alternative to California's high-speed rail project. (Maintaining tunnels at complete vacuum, while best to eliminate drag on the travel pods, would be too costly and impractical, Musk said in the paper.)
Within months of that paper's release, in June 2014, Josh Giegel and Shervin Pishevar launched Hyperloop Technologies Inc. in a garage in the Los Feliz neighborhood, with the express intent of bringing the hyperloop vision to reality as quickly as possible. That company is now Virgin Hyperloop One, thanks to a sizable investment in 2016 from Richard Branson's Virgin Group Ltd. (Branson served as board chair for a little over a year before stepping down in October.)
Virgin Hyperloop One has at least two competitors: Hyperloop Transportation Technologies Inc., of Culver City, founded in 2013, and Toronto-based Transpod Inc., which was founded in 2015.
Hyperloop Transportation Technologies, which uses compressed air to levitate the pods, has contracts signed for systems in China, Abu Dhabi, Ukraine and several other countries, and last month unveiled its first full-scale hyperloop pod. Transpod, which uses magnetic levitation to both lift and propel the pods forward, is set to build a test track in France and is developing what it hopes will be industry standards for hyperloop travel.
Virgin Hyperloop One, however, has pursued a strategy of building a real-world test track as soon as possible. Within 18 months of its founding, the company had purchased land and started building a test track just outside North Las Vegas. The first test, a brief 5-second burst of magnetic power that levitated and pushed the test pod forward for 3 seconds, took place in May of last year.
By the third test in December – the first one to test all elements of the system, including removing most of the air from the tunnel – the pod reached a top speed of 240 miles per hour. At that speed, the pod could travel from Los Angeles to San Francisco in less than two hours, significantly faster than the proposed high-speed rail project.
Proof of concept
So far, Virgin Hyperloop One and its new chief executive Walder have declined to discuss the construction cost for future hyperloop tunnels, choosing instead to focus on proof of concept. A company document leaked to the media in 2016 estimated construction costs of a proposed 107-mile tunnel in the Bay Area would cost between $9 billion and $13 billion, which would translate to between $80 million and $120 million per mile. By comparison, the official cost of the fully built-out California High Speed Rail project is $77 billion for roughly 400 miles of track, with other unofficial estimates running as high as $100 billion; that makes for a range of $192 million to $250 million per mile.
But one local transportation design expert said he believes it would be difficult for a hyperloop system to be cost competitive with traditional high-speed rail, especially over long distances.
"There is still quite a long way to go before this technology can be turned into a robust commercial operation that can reliably and safely transport passengers and/or cargo from Point A to Point B," said Geoff Wardle, executive director, graduate transportation systems and design, with the ArtCenter College of Design in Pasadena.
For example, Wardle said, to accommodate pods going 500 miles per hour to 600 miles per hour through tunnels, those tunnels have to be extremely straight over long distances. "Any deviation from straight, either left or right, or up or down, and the costs jump up; likewise, so would the cost for any track switching."
Another issue Wardle cited: If there are any intermediate stations along the route, then in order to maintain the partial vacuum in the active tunnel, additional airlock systems must be built. "That's so much more expensive than your traditional high-speed rail station where all you do is apply the brakes," he said.
Virgin Hyperloop declined to disclose revenue though Walder did say the company has raised between $300 million and $350 million from various investors since its founding four years ago.
Walder, who was formerly the chief executive of the New York Metropolitan Transportation Authority, came on board as chief executive of Virgin Hyperloop One earlier this month, replacing Rob Lloyd, who held the post for three years. In one of the first interviews he gave in his new post, Walder told the Business Journal his goal is to begin construction within the next few years on several hyperloop projects that would carry actual passengers and cargo between major population centers.
"We have proven out the technology and shown it can be done," Walder said. "Now it's time to deliver real benefits to regions, to be able to move people and cargo, reshaping those regions and their productivity."
For reprint and licensing requests for this article, CLICK HERE.