Brain Gains: Neural Analytics Makes Waves With Portable Brain Scan Headset
Innovation Special Report
Friday, November 23, 2018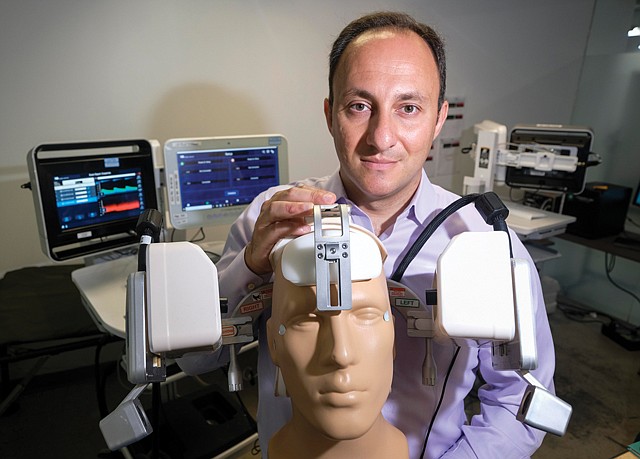 Neural Analytics Inc.
Industry: Health Care
Year Founded: 2013
Number of Employees: 100
Location: West Los Angeles
Money Raised: $46 million
Medical-device company Neural Analytics Inc. has developed a portable headset that can assess several types of brain damage, from stroke symptoms to concussions and other disorders.
Founded in 2013 by Robert Hamilton, Leo Petrossian and Dan Hanchey in West Los Angeles, the company spent five years developing its technology. After winning U.S. and European regulatory clearance for its robotic ultrasound device this year, Neural Analytics is now taking it to market, starting with health care providers.
The company's devices are a unique marriage of different high-tech elements, Hamilton, the company's chief science officer, said. "Our focus is combining ultrasound technology with medical robotics and artificial intelligence."
The Lucid Robotics System combines transcranial Doppler – an ultrasound technology – with a headset containing robotic wands that monitor blood flow to the brain. The noninvasive device is a "brand new" way of assessing brain disorders, Hamilton said. "We're excited to get it out there."
The headset uses machine learning to pinpoint brain disorders based on patterns in the data it gathers, company executives said. That makes it possible for the device to much more quickly identify the severity of a stroke, for example, and to alert doctors.
It also holds potential for use in diagnosing concussions, migraines, brain bleeding and dementia although those applications are pending approval.
The Neural Analytics system has the potential to simplify brain-injury diagnoses and thereby increase a patient's chances of survival, executives said. The system will also compete against traditional ultrasound systems that require the presence of a skilled technician.
The Lucid system received federal clearance in May to monitor blood flow to the brain and shipped its first units to Erlanger Health System hospitals in Chattanooga, Tenn., in September. The cost per device wasn't disclosed.
Neural Analytics said it's developing a rugged, hand-held version of its headset for the Defense Department, to enable traumatic brain injury evaluations on the battlefield. It's also working on other portable versions of its device developed specifically for emergency responders.
"We are leveraging technology in a very novel (way) to solve problems that have plagued health care for decades," said Petrossian, the company's chief executive.
Hatched at UCLA
Six years ago, Hamilton hatched his idea – a portable ultrasound device to measure and track brain health – while earning a doctorate in biomedical engineering at UCLA.
Prev Next
For reprint and licensing requests for this article, CLICK HERE.