Artful Attorney
Dan Clivner I Sidley Austin
Friday, November 23, 2018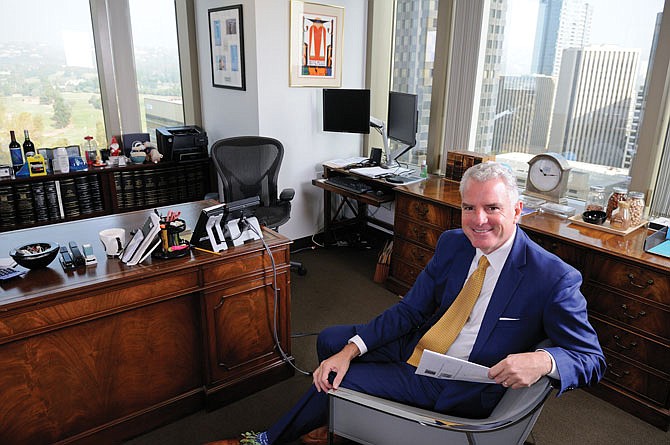 International law firm Sidley Austin, headquartered in Chicago, has occupied downtown offices at 555 W. 5th St. for 30 years. The firm added new, contemporary-designed digs in Century City in 2015 to provide a closer connection to the Westside entertainment industry.
Dan Clivner, managing partner of Sidley Austin's Los Angeles and Century City offices and co-leader of the firm's private equity practice, said the downtown offices set the bar high when it came to design for the second office, including its many art works.
"The art downtown is spectacular," Clivner said during a recent Business Journal visit to the firm's offices located on the Avenue of the Stars. "What we set about doing is finding California artists."
A short list of featured artists who are either local or have done substantial work in L.A. include Laddie John Dill, John Wehrle, Hank O'Neal and Mary Ann Ullman.
Giving the Century City offices a more contemporary California feel than the downtown space was just a bit easier because the firm could count on the help of Clivner's spouse, Steve Cochran, who served as unofficial office design consultant, acquiring the furnishings as well as curating the art in the Century City location. Downtown's Gensler was the design architect for the space.
Clivner can also claim some minor design cred: With the aid of Gensler, he designed the "S for Sidley"-shaped sofa that forms a comfy centerpiece for the office.
The Century City location was launched as a one-story office in 2015 and added a second floor in 2017, connected by a sweeping staircase and creating a total of 45,000 square feet of office space. Clivner said the firm is expanding and expects to add offices for up to 48 more attorneys on the upstairs floor.
Clivner, a graduate of St. John's University School of Law in Queens, N.Y., relocated to Los Angeles from New York in 1994 to advise Seagram Co. Ltd. and NBC Universal Media (formerly Universal Studios). He served as a managing partner in the Los Angeles office of New York-headquartered Simpson Thacher & Bartlett and joined Sidley Austin in 2015.
Clivner's personal office represents a blend of the California contemporary with East Coast tradition.
"I'm forward-looking, but I'm a little old school," he said, pointing to his very traditional wood desk. "We think of ourselves as Wall Street lawyers, and that's the kind of desk a traditional Wall Street lawyer would have."
And there's another reason for more traditional office furniture: "I'm cheap," he said with a laugh. "This is something (I've) had for decades. You don't just change it easily. When you've invested in it, you're stuck with it."
For reprint and licensing requests for this article, CLICK HERE.