Corporate Citizenship & Giving Guide 2018: LA's BEST
Custom Content by the Los Angeles Business Journal
Wednesday, November 21, 2018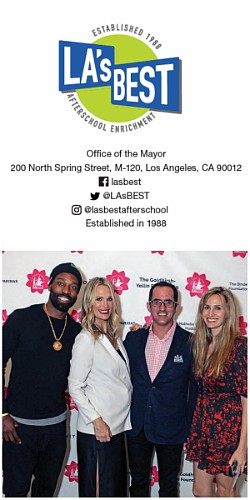 SERVICE AREA
LA's BEST plays a vital role in the lives of more than 25,000 elementary school students who come from neighborhoods with the fewest resources and the greatest needs across Los Angeles.
MISSION STATEMENT
LA's BEST Afterschool Enrichment Program provides a safe and supervised afterschool education, enrichment and recreation program for children ages five to 12 in Los Angeles.
COMMUNITY IMPACT
In 2018, 25,000 students received afterschool homework support, nutritious meals, and enrichment and recreational activities, all at no cost to families. With additional support from Mayor Garcetti, 7,000 students participated in the Summer Learning Program.
LEADERSHIP
EXECUTIVE LEADERSHIP
Eric Gurna
President & CEO
Amber Martinez
Vice President of Development
Debe Loxton
Chief Operating Officer
BOARD OF DIRECTORS
Chair: Christopher D. Dusseault
Gibson, Dunn & Crutcher LLP
Adam Deromedi
AECOM
Alberto Diaz
United Airlines
Trudi Ferguson
USC, Marshall School of Business
Neal Fraser
Redbird | Vibiana | Fritzi Coop
Jeff Goad
Drybar
Ruben Gonzalez
Gonzalez Strategic Affairs Los Angeles Chamber of Commerce
Eric Gurna
LA's BEST
Gerald L. Katell
Katell Productions, LLC
Katell Properties, LLC
Lyndal Larkin
Heather Lord
Capital Group
Jawaad Malik
Southern California Gas Company
Damian Mazzotta
Zero Gravity
Samira Poulos
The Honorable Richard J. Riordan
The Riordan Foundation
June Sale
Teresa Samaniego
ABC7
Dean Schramm
The Schramm Group
Cameron Strang
Marvin J. Suomi
KUD International, LLC
David Travers
ZipRecruiter
Vice Chair: Mary Odell
The Riordan Foundation
CFO: Robert L. Wicke
Deloitte Consulting
FUNDRAISING EVENTS
Throughout the year, LA's BEST hosts several unique events in collaboration with our Board Members, corporate partners and community of supporters. Locally Grown in the spring is hosted by Chef Neal Fraser and Amy Knoll Fraser in Redbird's beautiful garden. unWINEdLA in the late spring is a chic wine tasting event organized by the BEST Friends network attended by 500+ young professionals.
Our 30th Anniversary Our City, Our Kids gala (11.29.18), honoring Los Angeles Football Club, will be attended by 300+ philanthropists. We also organize evening and weekend gatherings, often around volunteer opportunities for people to network and experience our impact. Check out lasbest.org for upcoming events. Please contact Genevieve.Ostrander@lacity.org to learn more and get involved.
VOLUNTEER OPPORTUNITIES
LA's BEST offers rewarding opportunities to donate your time, talent and resources. Your participation helps children ages five to 12 feel supported and special. You can volunteer with students one-time or more frequently, by yourself, with a group of friends or with your company. We offer corporations meaningful and engaging opportunities to build camaraderie and connect with LA's BEST kids. You can read to children, help them with their homework, teach them a new skill and/or help foster sportsmanship on and off the field. We also invite you to join a fun and well-organized Event Committee to throw an event to help raise awareness and funds for LA's BEST. Please contact Navneet.Kaur@ lacity.org to sign-up.
For reprint and licensing requests for this article, CLICK HERE.
Prev Next