Corporate Citizenship & Giving Guide 2018: Continuing to Build Upon a Legacy of Giving Back
Custom Content by the Los Angeles Business Journal
Wednesday, November 21, 2018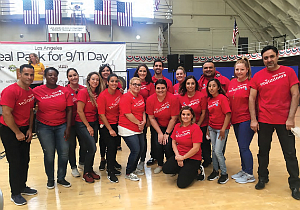 We understand the importance of giving back to the local communities that we serve. Our commitment dates back to when Wells Fargo was founded in 1852. Henry Wells stated, "Our lives are not measured by the number of years and days we exist, but by what we accomplish while we live, and the good we may render to our fellow man." This is equally true today, as we opened our newest Wells Fargo branch in the south Los Angeles neighborhood of Watts.
The company's signature grand opening festivities included the recognition and financial support of two community charitable organizations that are building a better tomorrow by giving back to the communities, including Watts. "A Place Called Home" and "Ritter Elementary School' share our vision of uplifting our communities and placing a deep focus on good citizenship.
In October, we celebrated Wells Fargo's first outdoor mural at our Adams & Broadway branch in Los Angeles. This marked the 227th mural unveiled as part of our national initiative community murals in Los Angeles County. The unique murals represent of the rich history of its home community, featuring local landmarks, street scenes, and historical maps that highlight important community pioneer, including labor activist Cesar Chavez; aviator Bessie Coleman; and jazz musician Buddy Collette. Taking us through a historical journey of the neighborhood from past to present, each mural further engraves the memory and impact that these key figures have on our communities. My hope is that as customers come into the branch and experience the mural for themselves, they can admire a mural that pays homage to our rich history in the city.
Our commitment to communities' nationwide is focused on our three philanthropic pillars. The commitment begins with an attention to diversity and social inclusion by ensuring that everyone feels valued and respected and has the resources and opportunities to succeed. In addition, Wells Fargo is committed to economic empowerment by ensuring individuals have the financial tools and resources needed to succeed financially. Lastly, a commitment to environmental sustainability ensures we are playing a role in helping to reduce climate change impacts.
We are optimistic about the economic opportunities our nonprofit alliances are creating in many communities in Greater Los Angeles. An example is our work with the Los Angeles Cleantech Incubator (LACI). Our support for LACI's workforce training program takes youth from low to moderate-income communities and helps develop careers paths in green-tech industries collaborating with entrepreneurs and developing environmentally sustainable businesses. We are proud of our work with United Way of Greater Los Angeles: Home for Good to the Los Angeles LGBT Center: Critical Services Supporting LGBT Seniors and Homeless Youth. Where we are were able to support a broad range of programs from supportive housing to financial education workshops.
We realize that our team members are a valuable asset to our community. Which is why they volunteer their time and expertise by going out to the community to raise awareness of the importance about financial education. Our Hands on Banking®program is our free, non-commercial, financial capability program that offers a financial education curriculum to individuals in the community, schools, senior centers, and nonprofit organizations. By engaging in the community, our team members actively teach these courses to stress the importance of money management and credit. Yearly, our team members participate in the American Bankers Association Get Smart About Credit (GSAC) Day in the community to share the importance of credit and its impact to one's financial future.
At Wells Fargo, we strive to create economic change to make positive contributions in our communities through philanthropic efforts that encourage team members to remain active in their communities. We honor our long-stand relationship with the thousands of deserving organizations that touch upon the different needs for local Angelenos. Collectively across Los Angeles, our team members volunteered more than 34,000 hours in their local communities last year alone.
We are proud to share that Wells Fargo donated $18.2 million in 2017 to nonprofits in Greater Los Angeles County communities. And that we were once again, named the top corporate philanthropic donor by Los Angeles Business Journal for the 13th consecutive year.
As we usher in the New Year, our hope is that we are creating solutions through our philanthropic efforts for stronger communities. On behalf of the more than 8,500 team members who serve our customers in Los Angeles County, we thank you for allowing us to be an active part of the community.
Michael Ormonde is the Los Angeles Region Bank President for Wells Fargo.
For reprint and licensing requests for this article, CLICK HERE.