Corporate Citizenship & Giving Guide 2018: City of Hope
Custom Content by the Los Angeles Business Journal
Wednesday, November 21, 2018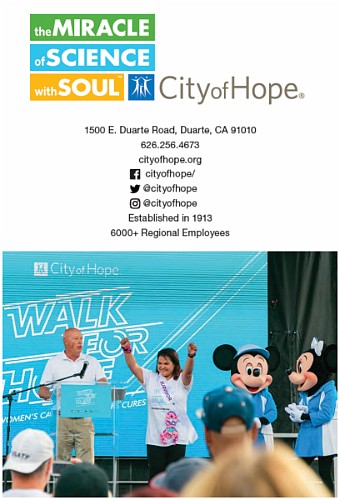 SERVICE AREA
At City of Hope, we advance science to make lives whole again. As a world leader in the treatment and research of cancer, diabetes and other diseases, our scientists partner with doctors to transform lab breakthroughs into novel therapies. Made possible by philanthropy, the goal is singular: to speed treatments to patients so they receive healing now, not years from now.
Located just northeast of Los Angeles, City of Hope bridges innovative science with compassionate patient care. Patients and their families have access to our therapies that heal through integrated physical, emotional and spiritual approaches that care for the whole person — body, mind and soul. Patients can participate in our more than 500 clinical trials, and benefit from our on-campus medical, education and research facilities. With additional locations across Los Angeles, Ventura, Riverside, Orange and San Bernardino counties, our unique approach to care is available in many communities.
MISSION STATEMENT
City of Hope is transforming the future of health. Every day we turn science into practical benefit. We turn hope into reality. We accomplish this through exquisite care, innovative research and vital education focused on eliminating cancer and diabetes.
LEADERSHIP
EXECUTIVE LEADERSHIP
Robert Stone
President and CEO
Kristin Bertell
Chief Philanthropy Officer
BOARD OF DIRECTORS
Selwyn Isakow, Chair
The Oxford Investment Group Inc.
Randolph P. Beatty, Ph.D.
Leventhal School of Accounting, University of Southern California
Barbara Bruser
First Republic Investment Management
Morgan Chu
Irell & Manella, LLP
Malissia Clinton
The Aerospace Corporation
Steven B. Fink
Malibu Ventur
Eddy W. Hartenstein
Former Chairman and Chief Executive Officer, DirecTV
Jody Horowitz Marsh
Norman C. Payson, M.D.,
Immediate Past Chair NCP Inc.
William Post
TGen Board of Directors
Ronald Sargent
Retired, Staples Inc.
Anthony E. Scott
Office of Management and Budget
Glenn Steele Jr., M.D., Ph.D
G Health Solutions Inc.
COMMUNITY IMPACT
Thousands benefit from our holistic, compassionate care and bone marrow and stem cell transplants. Millions more with diabetes benefit from synthetic human insulin developed through research conducted at City of Hope.
FUNDRAISING EVENTS
Walk for Hope: Walk for Hope is a multicity series of live and virtual fundraising walks that benefit women's cancers research, raising $36 million since it began in 1996. It is City of Hope's largest public facing event, bringing together more than 10,000 people committed to making the dream of living in a cancer-free world more of a reality.
Hope Sweat and Cures: This fitness and fundraising program supports our research and treatment programs through endurance events like the L.A. Marathon and several destination races.
Tournaments: City of Hope hosts golf and tennis tournaments throughout the year, and is the beneficiary of the Panda Cares Charity Golf Invitational and The Cheesecake Factory Oscar & Evelyn Overton Charitable Foundation Annual Charity Golf Tournament.
Spirit of Life®: The Spirit of Life Award is City of Hope's most prestigious philanthropic honor, presented annually to industry leaders who have demonstrated outstanding personal, professional and philanthropic achievements. Each award ceremony presents opportunities for sponsorships.
VOLUNTEER OPPORTUNITIES
Volunteers who freely give of their time and effort throughout City of Hope provide a special dimension of care and support for those who need it most — offering empathy for families and visitors, and supportive services for patients and families. Our program is comprised of extraordinary individuals with unique backgrounds and skills who have a desire to serve by helping others. They go the extra mile to ensure City of Hope's mission of eliminating cancer and diabetes through exquisite care, innovative research and vital education becomes a reality. Some of our opportunities include escorting patients around campus as they prepare to check in for their appointments, assisting our nursing staff with friendly visits in the inpatient setting, and providing information about products in our Positive Image Center.
For more information regarding the volunteer program at City of Hope, visit CityofHope.org/giving/getinvolved/ volunteer.
GIVING OPPORTUNITIES
When you support City of Hope, you join thousands of passionate individuals and companies nationwide that see how we are transforming the future of health and bringing more cures to more people faster than ever.
• Saving a life is free — donate blood or platelets. We can help find a blood drive near you, or you can donate directly on our campus.
• Donate to a specific research area or program.
• Participate in or sponsor a fundraising event. From cancer walks, endurance events and yoga to galas, golf outings and bowling, there's an event for you.
• Join a volunteer fundraising group located near you or through an industry council like music, home furnishings, real estate and many more.
• Create an ourHope personal fundraising page.
• Leave a lasting legacy through a planned gift.
• Shop to give through AmazonSmile and cause marketing programs.
• Multiply the good you do through payroll deductions — some employers may offer matched gifts.
• Make a gift of real estate, stock, bonds or mutual funds to support specific research — there may be tax incentives for you.
For reprint and licensing requests for this article, CLICK HERE.