Corporate Citizenship & Giving Guide 2018: APLA Health
Custom Content by the Los Angeles Business Journal
Wednesday, November 21, 2018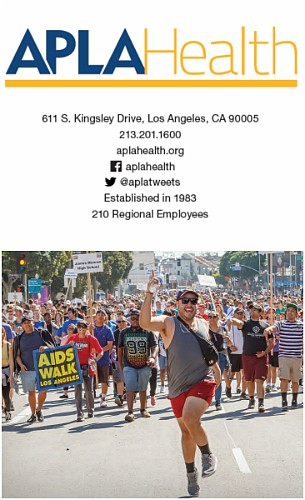 SERVICE AREA
Los Angeles County
MISSION STATEMENT
APLA Health's mission is to achieve health care equity and promote well-being for the LGBT and other underserved communities and people living with and affected by HIV.
COMMUNITY IMPACT
We opened our third state-of-the-art health center that will provide free and low-cost health care for those who live and work around the West Hollywood, Hollywood, Miracle Mile and Central Los Angeles neighborhoods.
LEADERSHIP
EXECUTIVE LEADERSHIP
Chair
Peter Perkowski
Perkowski Legal, PC
Vice Chair
James M. Patton III
Treasurer
Alan R. Walden
Senior Project Analyst, Capital Group
Secretary
Janice Littlejohn
Los Angeles Review of Books
BOARD OF DIRECTORS
Craig Bowers
Incluence
Paula Cannon
University of Southern California
Tracy Cohen
Clientline Volunteer
Cameron Fox
Paul Hastings
Anthony Henderson
Novartis
Val Jackson
Cardinal Health, Inc.
Lee Klosinski
UCLA Nathanson Family Resilience Center
Jessie L. McGrath
Los Angeles County
DJ Moore
Latham & Watkins LLP
Ron Sylvester
RS/tv, Inc.
Tom Whitman
Ion Marketing
Craig E. Thompson
APLA Health
FUNDRAISING EVENTS
• AIDS Walk Los Angeles
• The Envelope Please
• Jolly St. Knicker's Holiday Run.
VOLUNTEER OPPORTUNITIES
Our dedicated volunteers increase our capacity to serve the community 10 times over. People of many skills and backgrounds come through our doors every year, as teams or as individuals, for assignments from phone banking to bagging groceries to helping with one of our fundraisers.
• Client Access Volunteer
• Food Pantry Volunteer
• Nutrition/Administrative Volunteer
• Special Events Volunteer
GIVING OPPORTUNITIES
When you make a donation to APLA Health, you are giving to thousands of people across Los Angeles County.
• Individual and Recurring Giving
• Event Sponsorship
• Corporate Sponsorships
• Community events, including holiday food drives
• In-Kind Donations
GOALS FOR 2019
• Expand programs for older adults living with HIV
• Increase the number of individuals who access our primary, dental and mental health services.
• Continued advocacy to protect and expand access to safety-net programs
For reprint and licensing requests for this article, CLICK HERE.