Corporate Citizenship & Giving Guide 2018: The Advot Project
Custom Content by the Los Angeles Business Journal
Wednesday, November 21, 2018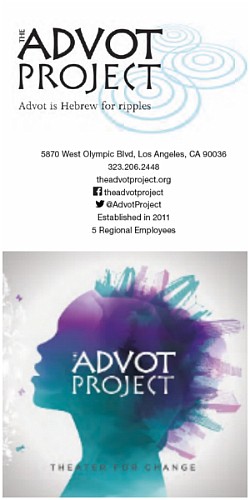 LEADERSHIP
EXECUTIVE LEADERSHIP
Naomi Ackerman
Founder/Executive Director
advotprojectorg@gmail.com
BOARD OF DIRECTORS
Adam Wergeles
Anat Sadan
Karen Taback
Shawn LaRe' Brinkley
Gary Townsend
SERVICE AREA
The Advot Project serves Los Angeles County public, private and continuation high school students, youth from underserved communities, formerly gang-involved individuals, teens ages 13-26 and young mothers, as well as incarcerated youth.
MISSION STATEMENT
The Advot Project uses theater arts to teach youth communication skills and healthy relationships.
COMMUNITY IMPACT
In the Summer of 2018, The Advot Project implemented the first ever summer theater program in partnership with Homeboy Industries and The Wallis Annenberg Center for the Performing Arts serving over 65 youth teaching them tools to build self-esteem, prevent violence, encourage social change, and promote self-empowerment.
FUNDRAISING EVENTS
On March 26th, 2019 at the Wallis Annenberg Center for the Performing Arts, the Advot Project fundraising event will be a culminating performance of its workshops. Check out the website and follow the project on social media for more info!
VOLUNTEER OPPORTUNITIES
We have various volunteer opportunities: mentoring our participants, teacher aids in a variety of locations, ushers and backstage positions at our presentations.
GIVING OPPORTUNITIES
For our community to remain strong and to ensure our future, we need to join together.
Sponsorship opportunities: a series of ten Relationships 101 workshops, a youth for a year of Advot Project programs, equipment, props, program materials and art supplies for all our participants/ programs.
We can accomplish so much more together than we can alone.
GOALS FOR 2019
• To expand our programs to new locations
• To double the number of youth we serve
• To create toolkits and curriculum guides to shared with educators in the field.
For reprint and licensing requests for this article, CLICK HERE.