Corporate Citizenship & Giving Guide 2018: Alzheimer's Los Angeles
Custom Content by the Los Angeles Business Journal
Tuesday, November 20, 2018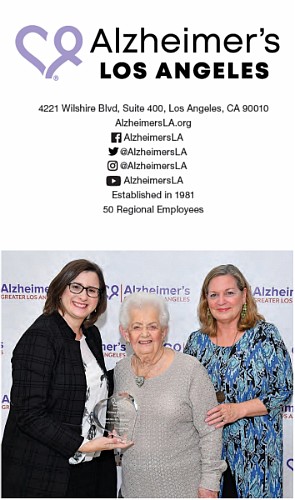 SERVICE AREA
Alzheimer's LA serves individuals and their families living with Alzheimer's and other dementias in Los Angeles County and the Inland Empire.
MISSION STATEMENT
Improving the lives of local families affected by Alzheimer's & dementia by increasing awareness, delivering effective programs & services, providing compassionate support, and advocating for quality care and a cure.
COMMUNITY IMPACT
Our award-winning programs helped healthcare organizations adopt tools, workflow processes, and strategies to better serve families affected by dementia. We trained 4,000+ professionals, receiving over 650 referrals from healthcare professionals.
LEADERSHIP
EXECUTIVE LEADERSHIP
Heather Cooper Ortner
President and CEO
Hortner@alzgla.org
Dr. Debra Cherry
Executive Vice President
BOARD OF DIRECTORS
Jackie Macias
Board Chair
Tina Pukonen
Secretary, Pinterest
Lisa Chalfin
Treasurer, Warner Pacfic Insurance Services Inc.
Mark Liberman
Immediate Past Co-Chair
Matt Reid
Immediate Past Co-Chair, Sard Verbinnen & Co.
John Barnes
UBS Financial Services, Inc.
Niloo Bedrood
Deloitte Advisory
Kenneth Chiate
Quinn Emanuel
Helena Chui, M.D.
University of Southern California
Gary L. Ferrell
Ferrell Consulting
Leonor Gavina-Valls
F. Gavina & Sons, Inc.
Jeffrey Glassman
Covington Capital Management
Ingrid Graham
The Movement Talent Agency
Winston Greene
Philanthropist
Robert Hirsch
S.A.H. Investments
Randi Jones
Philanthropist
Susan Disney Lord
The Bel Air Restaurant
Kyle Mabry
American Airlines
Anne Martinez
Entercom
Susan M. Reynolds
Sujac Studios
Elliot Sainer
Philanthropist
Karl Schulze
Schulze Haynes Loevenguth & Co., LLC
John & Cynthia Tiedeman
Judy Wunsch
Alzheimer's Los Angeles
Val Zavala
Philanthropist
FUNDRAISING EVENTS
Alzheimer's LA holds many fundraising events throughout the year:
• An Unforgettable Evening
• walk4ALZ® (locations throughout our service area)
• arts4ALZ/Memories in the Making Art Auction
• women4ALZ® Visionary Women's Awards Luncheon
• Salon events
• run4ALZ®
VOLUNTEER OPPORTUNITIES
• Events
• Helpline
• Office administration
• Public policy
• Support group facilitation
• Education programs
• Community outreach
GIVING OPPORTUNITIES
• Online
• Phone
• Matching gifts (contact your HR department)
• Corporate giving
• Planned giving
• Payroll deduction
• Host your own fundraising event
• Donate your unwanted car. Truck, boat or RV
• Event sponsorship
GOALS FOR 2019
• Increase public awareness of Alzheimer's Los Angeles, and our free programs & services for individuals and families
• Improve care for our culturally diverse population
• Decrease reticence in reaching out to Alzheimer's Los Angeles for support
For reprint and licensing requests for this article, CLICK HERE.