100 Fastest Growing Private Companies 2018: For Growing Companies, Pasadena has Much to Offer
Custom Content by the Los Angeles Business Journal
Monday, November 19, 2018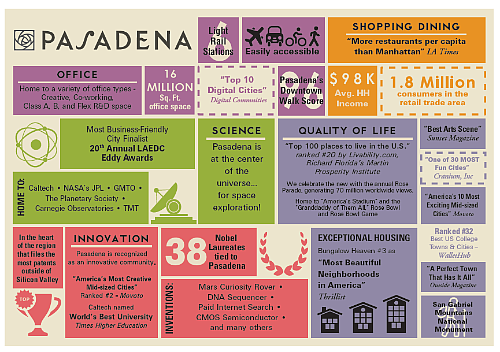 When it comes to starting or growing your company, Pasadena has a lot to offer. A popular destination located 10 miles northeast of downtown Los Angeles, Pasadena attracts a wide variety of business, shoppers, and visitors 365 days a year. What makes Pasadena so attractive is the breadth of amenities available. From transit-friendly services and walkability scores in the top 5% of the nation, to cultural landmarks and shopping and dining from every corner of the globe, every day in Pasadena is as picture perfect a postcard as what the world sees on New Year's Day.
With a diverse and thriving employment base, Pasadena is home to some of the most successful companies in the world, as well as best-in-class institutions like ArtCenter College of Design, Caltech, and soon, the Kaiser Permanente School of Medicine. Regarded as an epicenter for discovery, pioneering work in science, art and space exploration happens every day at the great institutions, start-ups and businesses headquartered in Pasadena. Even more innovation exists at Pasadena's urban centric co working spaces and incubators such as Idealab, the Pasadena Bioscience Collaborative, Kitchen United, and the Chef Center of California. A number of key industries can be found in Pasadena, including finance, engineering, academics and health care, but there's always room for more.
Two companies to watch and noted as fast growing in Pasadena include KROST, a Public Accounting Consulting Firm, and Fox Dealer, a personalized digital agency. KROST is experiencing a 66% growth rate by creating value for their clients and equipping them with the tools to make better business and financial decisions for their future. And, Fox Dealer ranked #41 on Inc. Magazine's 500 list, the most prestigious ranking of the nation's fastest growing private companies. Fox Dealer CEO Gian Carlo Asong attributes their astounding growth rate to the relentless hustle his team puts in every day.
Pasadena's Office of Economic Development knows how important the hustle is in business and start-ups, and is here to roll up its collective sleeves and hustle with you. Pasadena's Economic Development Team offers a variety of business concierge services to assist businesses on their road to success. Call on the team to assist you with site selection, to navigate permits, or to schedule a one-on-one appointment with a small business consultant. Whether you are scaling up or just starting out, Pasadena's Office of Economic Development is here to help.
For more information, visit futureyourselfhere.com or call (626) 744-4660.
For reprint and licensing requests for this article, CLICK HERE.