Brookfield Unveils $170 Million CMC Overhaul
Renovations include more open space, retail shops and restaurants, updated facade
Friday, November 16, 2018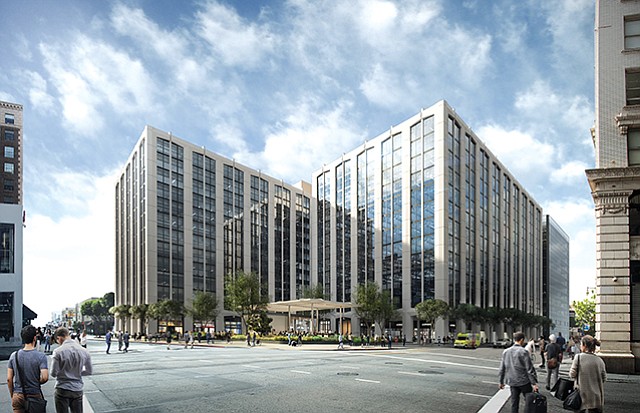 Brookfield Office Properties Inc. announced plans Nov. 12 for a $170 million overhaul of the 1.85-million-square-foot California Market Center in downtown.
"With Brookfield's $170 million investment in this storied business center, (California Market Center) will take another giant step forward in its evolution as a forward-thinking, 24/7 live-work business district," Bert Dezzutti, Western Region executive vice president for Brookfield Office Properties, said in a statement. Dezzutti added that the renovations will bring more creative firms to the area.
The plan calls for a mixed-use creative office and fashion campus. CMC, as the building has been rebranded, has three 13-story structures and a 2-story building that was formerly a bank. It takes up an entire block surrounded by 9th, Main and Los Angeles streets, and Olympic Boulevard.
The 2-story building will be demolished to make room for a public space. Construction is expected to be completed in 2020.
CMC opened more than 50 years ago. Renovations will include an updated facade with energy-efficient glass windows, skybridges to connect the buildings, a 5,000-square-foot rooftop space and 150,000 square feet of ground floor retail. Brookfield has not yet announced retail tenants.
Brookfield owns more than 10 million square feet of office space downtown.
Design firm Gensler is the lead architect on the project. Rob Jernigan, the company's co-regional managing principal called the repositioning a "game-changing catalyst for this corner of DTLA."
The Business Journal reported last year that Brookfield paid about $220 million in June 2017 for a slightly less than 50 percent stake in California Market Center from Koreatown-based Jamison Properties Inc. The property was valued at about $440 million at the time of the sale.
• • •
NETFLIX INKS ANOTHER HOLLYWOOD LEASE
Netflix Inc. signed yet another lease in Hollywood last week. The streaming giant will take over the entire 355,000-square-foot commercial space at the Academy on Vine project in Hollywood, Kilroy Realty Corp., the property developer, announced Nov. 13.
The Academy on Vine is a mixed-use project covering 3.5 acres on a full city block in Hollywood. Offices are currently under construction, and 193 residential units are expected to start construction later this year. Once completed, the project will have three creative office buildings and a 20-story residential tower.
Los Gatos, Calif.-based Netflix is planning to move in mid-2020, marking the next stage in the company's love affair with Hollywood.
"Our expansion into the Academy on Vine property further deepens our connection with the Los Angeles and Hollywood communities," David Wells, Netflix's chief financial officer, said in a statement.
Netflix already leases 418,000 square feet at the Sunset Bronson Studios in Hollywood. Last month, the company signed an 11-year lease to take over all 13 stories at Epic, another building under construction in Hollywood. Epic is a Hudson Pacific Properties building and is expected to be completed in early 2020.
• • •
KIDDER MATHEWS OPENS
OFFICE IN DTLA
Commercial real estate firm Kidder Mathews has opened a new office downtown, the firm announced Nov. 13. The Seattle-based brokerage is occupying the 27th floor of the Figueroa at Wilshire building.
The office can support up to 45 people and currently houses 22 staff who relocated from an office in Commerce.
Earlier this year, real estate veteran Bill Boyd and his team joined Kidder Mathews from Charles Dunn Co. Inc., which recently announced it was closing its brokerage business.
Staff reporter Hannah Madans can be reached at hmadans@labusinessjournal.com or (323) 556-8337.
For reprint and licensing requests for this article, CLICK HERE.