Influential Family-Owned Businesses in Los Angeles: Vromage
Custom Content by the Los Angeles Business Journal
Thursday, November 15, 2018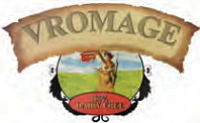 VROMAGE
For years, people have sought out a dairy-free alternative to a staple in the human diet: cheese. The finest chesses are of course, cultivated and crafted, fermented and perfected. And now, finally, there is a cheese that's as good for you as it is for the animals. Since Vromage first opened the doors to its quaint West Hollywood store in 2014, the artisans' gourmet vegan cheese shop has made a splash in LA's dairy-free, vegan cheese scene. Hospitals, doctors, lactose intolerants, nutritionists, dietitians, chefs, cooks, celebrity vegans, and non-vegans have all become great supporters and customers on a regular basis.
Vromage founder, Youssef Fakhouri has been refining his product since he first began at le Vegan in Los Angeles in 2009. After years of passionate persistence, his product has evolved into the uniquely diverse masterpiece that it is today. Vromage offers superior-quality artisan cheeses made from nuts and aged to perfection. They are arguably the best substitutes for dairy cheese available.
For reprint and licensing requests for this article, CLICK HERE.