Influential Family-Owned Businesses in Los Angeles: AMS Fulfillment - Upholding 'Best for the World' Standards
Custom Content by the Los Angeles Business Journal
Thursday, November 15, 2018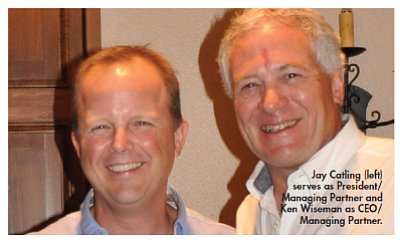 Advantage Media Services, Inc. (AMS) is a privately owned full-service bi-coastal order fulfillment company headquartered in Valencia, CA. Majority-owned by AMS executives Ken Wiseman and Jay Catlin, the company's 16-year history is filled with decisions and undertakings that respect and benefit the community. As a Certified B Corporation, the company is ideologically committed to uphold "best for the world" standards with regard to the community and the environment.
AMS lists numerous achievements as a job provider. Partnering with a local community college, College of the Canyons, AMS has created and begun a Nationally Certified Apprenticeship Program in Logistics, which is a groundbreaking first in the US. Logistics is one of the fastest-growing fields in the US, and AMS is proud to have played a role in originating this apprenticeship program, which is offered free of charge to its employees. The company has also begun a pre-apprentice program and established free adult education classes for its employees on campus.
For years AMS has made it possible for underserved populations in the community to find work. This includes youth from at risk environments, individuals with disabilities, individuals that are homeless, persons affected by ageism, persons reentering society after having been justice-involved and single parents. Many individuals in the community who face obstacles in being hired have come to AMS and successfully improved their lives.
AMS began as a Green corporation, and over the years has continuously been taking steps to reduce its impact on the environment. This past year a group of employees organized the 'Green Team' that monitors recycling, reduction of plastic use, and packaging to avoid waste.
The company has consistently supported charitable and social causes over the years, with executives directly participating. These include the Sheriff's Youth Activity League, Search & Rescue Team and Sheriff's Foundation; Green Santa Clarita, Five Key Charter Schools, Single Mother's Outreach, the LA Cancer Challenge and Senior Concerns among others.
In addition, the AMS executive branch has established working relationships with many organizations in the community. A partial list includes: Veteran Services Collaborative; the SCV Sherriff's Department; the Youth Activity League; SCV Search & Rescue; First Responders; Goodwill Industries; Pleasantview Industries; the Mayor's Committee on Employment of Individuals with Disabilities; LA County and the Department of Workforce Development, Department of Rehabilitation, Aging and Community Service (WDACS); Los Angeles Mayor›s Office of Economic Opportunity, Office of Reentry; Single Mothers Outreach; Human Ummah Foundation and the Earth Day Organization.
AMS administration and associates also step up during the holidays to support organizations that provide meals and gifts to individuals in the community who are in need. Giving back to the community is a very big part of the culture at AMS, and the entire company takes great pride in this 'giving' culture.
The professional association that AMS is most proud to be a part of is the B-Corporation community. As a B-Corp (Social Enterprise), AMS joins with some of the most admired businesses in the US. These are businesses that seek to prove, through the way they do business, that a company can be both profitable and good for the world.
Dedication to the wellbeing of all is a big part of working at AMS. For AMS management and associates, working is not just a job, but an opportunity to advance and grow, gain education and training and lift up family and community.
For more information, visit AMSFulfillment.com
For reprint and licensing requests for this article, CLICK HERE.