Influential Family-Owned Businesses in Los Angeles: Athena Engineering, Inc.
Custom Content by the Los Angeles Business Journal
Thursday, November 15, 2018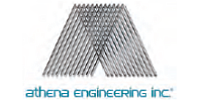 ATHENA ENGINEERING INC.
Athena Engineering, Inc. was founded in 1984 by Richard and Jannie Chiera as a mechanical construction company. Jannie was pregnant with Athena at the time, making Athena the unofficial third employee from the company's founding. The company was initially based in Covina – specifically, in Jannie and Richard's garage. Jannie had received a $5,000 tax refund and said "let's do this" … and Athena Engineering was born (not Athena yet, just the company).
Initially incorporated as CCE Systems, the name was changed to Athena Engineering in 1986. Athena graduated college in 2006 and immediately joined her family in managing the business. Today, all three members of the Chiera clan run the business together, in partnership with some carefully selected employees who have become like family as well. Throughout the company's history, hundreds of clients have trusted Athena Engineering's skilled teams to design, construct and control their environments.
For reprint and licensing requests for this article, CLICK HERE.