Notable Family-Owned Businesses in Los Angeles: Gearys
Custom Content by the Los Angeles Business Journal
Wednesday, November 14, 2018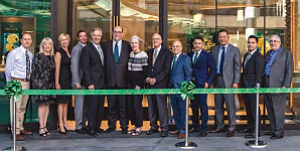 Gearys Beverly Hills, named after its founder, H.L. Geary, first opened its doors in 1930. A small art supply and gift store back then, the company emerged as a world-renowned curator of luxury. Gearys Beverly Hills' clients include Hollywood elite, European royalty and luxury consumers.
In 1953, H.L. Geary retired and sold Gearys Beverly Hills to Fred and Ruth Meyer, who decided to offer a more focused selection of dinnerware and gifts. In the 1970s, the Meyers' son Bruce became the driving force behind the launch of a hugely successful mail order business. Gearys signature brand of luxury was now available nationwide.
In their flagship store, Bruce partnered with world-class names like Baccarat and Lalique, and established the business as one of the country's preeminent destinations for luxury dinnerware and gifts.
In 1994, the Gearys signature Gift Letter Registry was born. Since its introduction, the Gift Letter
Registry has inspired many stores to follow suit, but the Gearys Beverly Hills Gift Letter Registry remains the original.
The grandson of Ruth and Fred, Gearys CEO Thomas Blumenthal, started store partnerships with Rolex and Patek Philippe. In 2009, the company opened a Rolex boutique at Westfield Century City. In 2012, the newly redesigned Gearys Beverly Hills on Rodeo Drive opened its doors.
Over the years, Gearys has given back to the community in many ways. The company has received several awards for its involvement, including the Modern Luxury and the Beverly Hills Chamber of Commerce's Icons of Beverly Hills Award (2017) and the Beverly Hills Chamber of Commerce's Best of Beverly Hills Golden Palm Legacy Award (2015). Gearys was also named the Will Rogers Best Historic Retail Business (2015) and received the Amie Karen Cancer Center for Children's Humanitarian Award (2004).
For reprint and licensing requests for this article, CLICK HERE.