Influential Family-Owned Businesses in Los Angeles: Worthington Ford
Custom Content by the Los Angeles Business Journal
Wednesday, November 14, 2018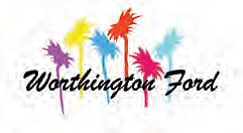 WORTHINGTON FORD
Worthington Ford and Cal Worthington are among the most iconic figures in Southern California. Everyone in LA seems to know Cal Worthington and the Worthington family. They've been selling cars in Southern California for over 60 years and dominating TV and radio advertising throughout that period.
Worthington has been one of the largest employers and largest sales tax generators for the City of Long Beach for decades and you can't miss their 2000 square foot sign on the 405 freeway. Cal Worthington probably sold more cars than anyone else in the country, helped pioneer television advertising, and donated extensively to local schools and charitable causes throughout the decades. Now his grandson and current company President, Nick Worthington, has continued that legacy, founding the Southern California Children's Endowment in 2015. Nick Worthington also has been active and serving on the boards of the Long Beach Area Chamber of Commerce, the Long Beach Police Foundation Advisory Board, the Southland Motorcar Dealers' Association Board and the board of the Southern California Children's Endowment.
For reprint and licensing requests for this article, CLICK HERE.