Leaders in Law 2018: Los Angeles County Bar Association Introduces "ADMITTED," a Podcast for Future leaders in Law
Custom Content by the Los Angeles Business Journal
Wednesday, November 7, 2018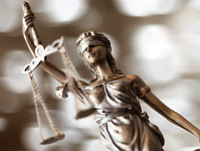 This summer, the Los Angeles County Bar Association (LACBA), in conjunction with its Barristers Section for new and young attorneys, launched "ADMITTED," a new podcast which assembles experiences, tips, and insights from practicing attorneys to help law students prepare for legal careers and make a successful transition from law school to legal professional.
Each monthly episode of "ADMITTED" will feature interviews with a diverse group of LACBA members reflecting on and sharing their personal experiences from graduating law school to finding their place in the legal landscape.
The pilot episode of "ADMITTED" examined the role that "Networking and Getting Involved" has in helping law students establish peer-to-peer connections and gain experience which can have a critical role when it comes to building or advancing their careers.
Barrister's President Jeanne Nishimoto, Barrister's President Elect Jessica G. Gordon, Barrister's Executive Committee Member Diana A. Sanders, along with Mary Mucha, director of LACBA's Immigration Legal Assistance Project and Andrew Culberson, director of LACBA's Veterans Legal Services Project, share their personal experiences as to how networking has impacted their careers and the practical legal experience new and young lawyers can gain by volunteering with one of LACBA's legal services projects.
"ADMITTED" is currently available online on the iTunes Podcasts platform. Those interested in receiving notification of future episodes can subscribe to the podcast via iTunes at lacba.org/itunes.
The Los Angeles County Bar Association (LACBA) is one of the largest voluntary metropolitan bar associations in the nation and has more than 15,000 members. LACBA is engaged in advancing the administration of justice and meeting the professional needs of lawyers.
For more information on LACBA, visit lacba.org.
For reprint and licensing requests for this article, CLICK HERE.