New Business Models Needed for Nonprofits
Commentary
Friday, November 2, 2018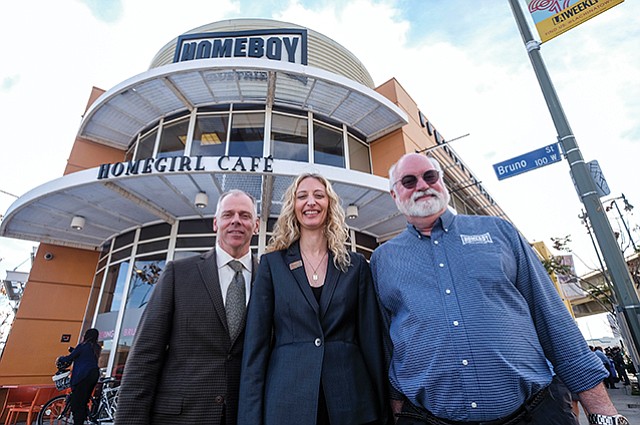 We generally associate words such as "sustainability" and "scale" with the entrepreneurs who power our region's robust startup and fast-growth companies.
That's why Adlai Wertman, the David C. Bohnett Professor of Social Entrepreneurship at USC's Marshall School, caught my attention when he used those terms in a recent talk to leaders of local nonprofit organizations.
The nonprofits were recipients of General Community Grants from the Jewish Community Foundation of Los Angeles. The foundation awards General Community Grants annually to address pressing societal issues in Los Angeles, including homelessness, domestic and sexual violence, child welfare and human trafficking, among others.
Wertman explained that many nonprofits and donors are trying novel approaches to solve these challenging issues. For example, a number of California nonprofits have implemented new business models, including earned-income strategies, to tackle social problems.
Nonprofits will continue to rely on contributions, he said, but an earned-income model can be a powerful ancillary source of sustainability. This approach is not appropriate for all nonprofits, but some are embracing it with encouraging results.
One nonprofit reporting encouraging results is Chrysalis, the Los Angeles-based job-skills and placement agency Wertman led as chief executive before he transitioned to academia. Chrysalis views employment as the path to self-sufficiency. The organization provides street-maintenance services to the city, staffed by its homeless and working-poor clients. Chrysalis uses the revenue it receives to fully fund its transitional jobs program. It also acts as an employment agency, matching clients with companies that need labor and receiving fees for these services.
The Rev. Gregory Boyle's Homeboy Industries follows a similar model, operating successful apparel, cafe and bakery businesses that employ men and women who previously were incarcerated or involved with gangs. Revenues from the businesses help cover the training costs and support the program's clients.
Those are cases of nonprofits "working smarter," and the Jewish Community Foundation has identified some ways other organizations can follow their example:
Unlock cross-sector collaborations. Many of the large, complex challenges confronting our region, such as the homelessness crisis, are beyond the capabilities of any single nonprofit and require the private, public, nonprofit and academic sectors to work collaboratively and develop comprehensive strategies.
Tap the region's diverse, creative and intellectual capital. The nonprofit community can enlist more help from social entrepreneurs, strategists and technologists. Creative Los Angeles entrepreneurs continually introduce innovative technologies to create virtual communities that connect disparate segments of our population.
Some ways donors can embrace these new approaches include:
Strengthen the capacity of nonprofits. The number of nonprofits nationally is on the rise with more than 30,000 in Los Angeles County alone, according to available data. Identifying existing organizations doing great work and investing in their success through flexible support will help them stand out and sustain those causes and programs long term.
Invest in impact philanthropy. Donations are often directed to programs that reach the largest number of stakeholders. But impact also can be measured by less quantifiable factors, such as potential for transformation and reinvention. The General Community Grants made by the Jewish Community Foundation support programs that concentrate on high-priority social issues throughout Los Angeles, giving careful attention to their potential impact.
Foster more informed connections between local donors and nonprofits. Charitable giving is rewarding, but it can be daunting and confusing. Services such as the foundation's Center for Designed Philanthropy can help donors connect with organizations that address causes they care about most.
Los Angeles faces a range of serious challenges, but we also possess the talent, resources and willpower to sustain the nonprofit infrastructure that is taking on those challenges. Banding together, through deeper connections, dialogue and fresh ideas, we can enable our community to move past these obstacles toward its fullest potential.
Dan Rothblatt is executive vice president of the Jewish Community Foundation of Los Angeles.
For reprint and licensing requests for this article, CLICK HERE.