Leaders in Law 2018 Winners: Private Small Company In-House Counsel of the Year - Nicole Duckett
Custom Content by the Los Angeles Business Journal
Friday, November 2, 2018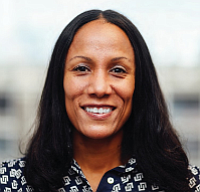 General Counsel
L.A. Clippers
Nicole Duckett built the Clippers' legal department from the ground up as the organization's first in-house counsel. She is the NBA's first woman of color to serve as chief legal officer, and a key member of the largest female leadership team in the NBA. Duckett advises on all strategies related to protecting the business and focuses on innovations in new media, digital platforms and broadcasting. She also oversees the L.A. Clippers Foundation as its President.
Duckett has demonstrated a commitment to increasing diversity in the legal profession through her work with non-profit organizations, including the Fulfillment Fund and F.A.S.T. Track, as well as her leadership at the Clippers. With the Clippers, Duckett led the development and creation of entirely new contract templates across all departments, creating central repositories and intake processes, formal advisory protocols and audits for internal stakeholders. She also developed key relationships with gold standard outside counsel and much more as the fledgling legal department has grown into the fully operational team it is today.
Over the past three years, she has hired and grown a diverse team of in and out-of-house professionals, overseeing the cultivation of a select group of trusted outside counsel and legal experts. Joining the Clippers on the heels of the team's sale to Steve Ballmer, Duckett helped steer the team through an ownership transition -- the first time the Clippers changed hands in more than three decades. She seamlessly worked with the National Basketball Association to ensure a smooth transition in the post-sale process. Duckett also recently led the formation of the Clippers' new G League team, the Agua Caliente Clippers of Ontario, which played its inaugural season in 2017-18.
For reprint and licensing requests for this article, CLICK HERE.