Leaders in Law 2018 Winners: Government/Municipal In-House Counsel of the Year - Victor King
Custom Content by the Los Angeles Business Journal
Friday, November 2, 2018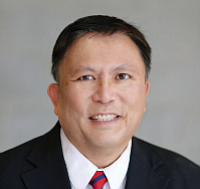 University Legal Counsel
California State University, Los Angeles
Victor King has served as the University Legal Counsel and Information Privacy Officer at California State University, Los Angeles, for almost sixteen years. The University is part of a 23-campus system, with total enrollment of over 450,000 students, headquartered in Long Beach, California. Of the thirty attorneys that serve California State University, King is the only one resident full-time on a campus.
King works closely with other administrators on the President's Cabinet and the Presidential Leadership Team to create opportunities for the over 28,000 students and 3000 employees on the LA campus, to make sure the university's record of upward mobility, which was based on a study of thirty million income tax records from 1999 to 2013, continues to hold true for the next generation.
As the Los Angeles Chief Legal Officer, King furnishes daily litigation, risk management, contract formation, information privacy, and human resources advice to the employees. He directs over half a dozen outside law firms retained to defend the institution and its employees in commercial, construction defect, discrimination, employment, First Amendment, and personal injury litigation. Over the past decade, he has overseen the modernization of his department, adopting e-filing, online research, and electronic case management tools that have greatly increased the efficiency of campus legal services.
As a California State University Human Resources legal team member, he is a designated specialist for all campuses on disability law and employee benefits. He is also a member of the system Intellectual Property legal team, helping to guide faculty about how to apply for, maintain, and defend their copyrights, trademarks, and patents.
Among his achievements, In 2017 to 2018, King settled an employment lawsuit after it was heard by the California Supreme Court. He worked to develop legal agreements to forge a partnership with the Los Angeles Football Club to make the campus its home for practice activities.
For reprint and licensing requests for this article, CLICK HERE.