Digital Dollars
L.A. a leader in digital health funding as region gains foothold
Friday, November 2, 2018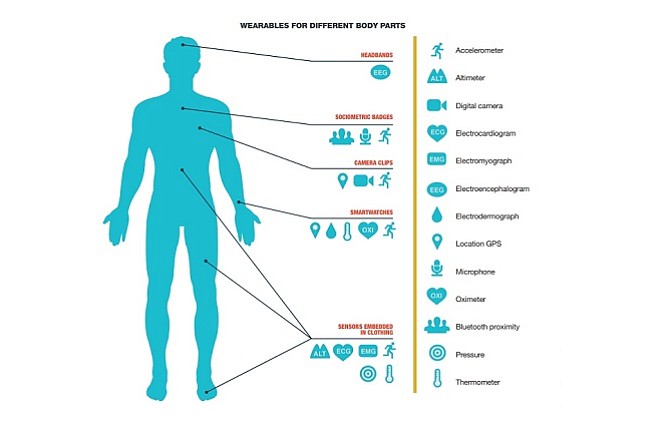 The greater Los Angeles area now ranks among the top five digital health markets in the nation based on investor funding over the past few years according to a new study.
The Southern California Biomedical Council reported that the Los Angeles metropolitan region ranked fourth in invested funds between 2014 and 2017, with $1.82 billion invested in local firms.
The region from Santa Barbara to Orange County saw $317 million in digital health investment last year, according to the L.A.-based trade group.
"The important thing is, over a several year period, the trend shows that Los Angeles is holding its standing as the fourth largest hotspot for digital health in the nation," said Ahmed Enany, chief executive of SoCalBio, whose report coincides with its second digital health conference on Nov. 9 at the Hotel Maya in Long Beach. "The prospects for the industry look promising – with more companies emerging in the digital health field, investors are now taking notice."
Digital health combines high-tech software and big-data analytics into a range of wearable monitoring devices, sensors and diagnostic tools that can provide mobile links to patients and lead to expanded and direct-to-consumer patient care.
Greater Los Angeles is now home to more than 250 emerging digital health companies, most of them clustered in West Los Angeles and south Orange County, according to SoCalBio.
Nearly two-thirds of them were founded after 2009, encouraged by federal initiatives to promote health information technology.
More than half of them have fewer than 10 employees.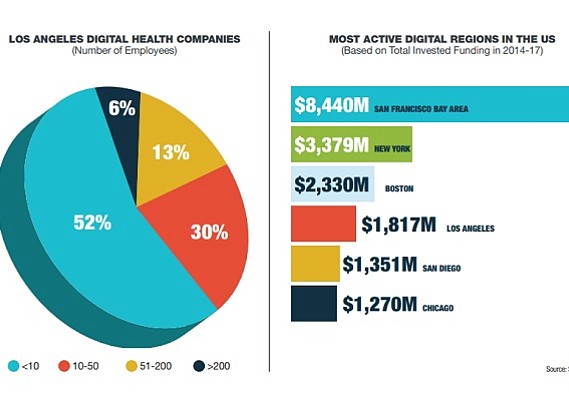 Some companies, such as Cellmic, a mobile diagnostic company based in Inglewood, are spinoffs from research institutions such as UCLA. Other companies such as NantHealth Inc., a Culver City-based precision health firm founded by Los Angeles billionaire Patrick Soon-Shiong, have roots in the bioscience industry.
Most local digital health companies, however, grew from tech-driven innovation, Enany said. They include Headspace Inc., a Venice-based healthcare company that provides online meditation classes via its mobile app, or GoodRx Inc., a Santa Monica-based company that tracks prescription drug prices via its mobile platform.
Wearables for wellness include the personal posture trainer by Adela Health Inc., based in Burbank. Wearables for remote cardiac monitoring include a chest sensor by Sensydia Corp., based in Westwood.

The Bay Area, a leader in the biosciences, has drawn the bulk of digital health investment, with companies raising more than $8.4 billion from 2014 through 2017, according to SoCalBio. Companies in the region raised more than $3.9 billion last year.
The Bay Area was followed by New York and Boston, which over four years drew $3.4 billion and $2.6 billion respectively.
Cutting edge health care technology has a long history in Los Angeles, according to SoCalBio.
Spacelabs Healthcare Inc., once based in Van Nuys, developed the first remote health monitoring and telemetry systems for NASA in 1959. The company's devices were used to monitor astronauts' vital signs in the early Gemini and later Apollo space missions.
For reprint and licensing requests for this article, CLICK HERE.