Growth To Go
Kitchen United offers existing restaurants space, help on delivery services
Friday, May 25, 2018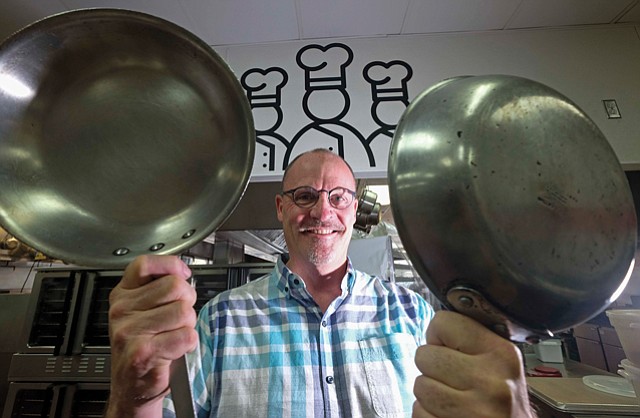 Kitchen United bills itself a "restaurant startup," offering a commercial kitchen space and added services for eateries that want to expand without putting money into dine-in, brick-and-mortar operations.
The company officially opened its first location, a 12,000-square-foot facility in Pasadena, last week. It also announced a Series A round from local investors, including Pasadena-based Cali Group and Monrovia-based Avista Investments, among other investors.
Kitchen United declined to comment specifically on how much funding they've raised since launching last August.
"We have raised enough and are in the process of scouting our next L.A. location," said Jim Collins, the company's chief executive.
Kitchen United's executive team includes Meredith Sandland, a former chief development officer for Taco Bell, and Atul Sood, a former director of business development at McDonald's Corp.
Kitchen United differs from other commercial kitchen spaces because it addresses the rise of consumer demand for delivery and take out operations, Collins said.
"Besides the actual physical kitchen, we provide tech, equipment, marketing assistance and workflow support," Collins said. "We saw that restaurants needed much more than access to a kitchen to make these specialized 'outposts' work."
The new service provides the potential for tenants to bolster their sales with delivery services.
Current tenants include Canter's Deli, and Neal Fraser's Fritzi Coop, and Mama Musubi, which is using Kitchen United to supplement its business at farmers markets in the region.
"…Kitchen United is poised to become the most trusted and qualified source for helping food businesses meet demand in all markets, allowing them to increase revenue without the significant overhead costs of opening and maintaining new traditional locations," said John Miller, chief executive of Cali Group.
Foodservice delivery sales are on the rise in the U.S., according to market research firm NPD Group, which reported a 20 percent increase over the past five years in a report issued in April.
"Delivery has become a need-to-have and no longer a nice-to-have in the restaurant industry," Warren Solochek, senior vice president at NPD said in a statement. "Restaurants need delivery in today's environment in order to gain and maintain share. It has become a consumer expectation."  
Third-party delivery services such as UberEats and Grubhub have pushed the trend along, Collins said.
"What's happening is that the delivery business is in part cannibalizing the revenue of sit-down dining places," he said.
Kitchen United aims to alleviate some of those challenges, he said.
For reprint and licensing requests for this article, CLICK HERE.