Cedars-Sinai Names New Head of Samuel Oschin Cancer Institute
Thursday, May 24, 2018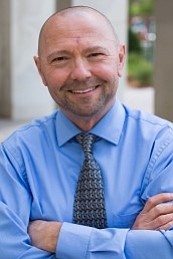 Cancer scientist Dr. Dan Theodorescu has been named to lead the Samuel Oschin Comprehensive Cancer Institute at Cedars-Sinai Medical Center, the hospital announced May 24.
Theodorescu, who now serves as director of the University of Colorado Comprehensive Cancer Center, starts July 1.
He replaces Dr. Steven Piantadosi, who stepped down in August to head a Cedars-Sinai research center before announcing a pending move to Harvard Medical School. The cancer institute has since been run by Interim Director Dr. Howard M. Sandler.
Theodorescu, a native of Romania who grew up in Canada, is considered a nationally recognized cancer researcher who has made major cancer therapeutic discoveries.
During his eight years at the University of Colorado, the professor of surgery and pharmacology oversaw the only National Cancer Institute-designated cancer center in the state.
In the lab, he is known for work on molecular mechanisms underlying bladder cancer and turning them into medical treatments.
He has published more than 300 journal articles and is founding co-editor of Bladder Cancer, the first journal of its kind.
At Cedars-Sinai, Theodorescu will manage a complex and growing integrated cancer program, according to the hospital. He brings a vision for cancer care that employs precision medicine, "big data," and population health research.
Health business reporter Dana Bartholomew can be reached at dbartholomew@labusinessjournal.com. Follow him on Twitter @_DanaBart.
For reprint and licensing requests for this article, CLICK HERE.