2. Elon Musk
2018 Wealthiest Angelenos
Friday, May 18, 2018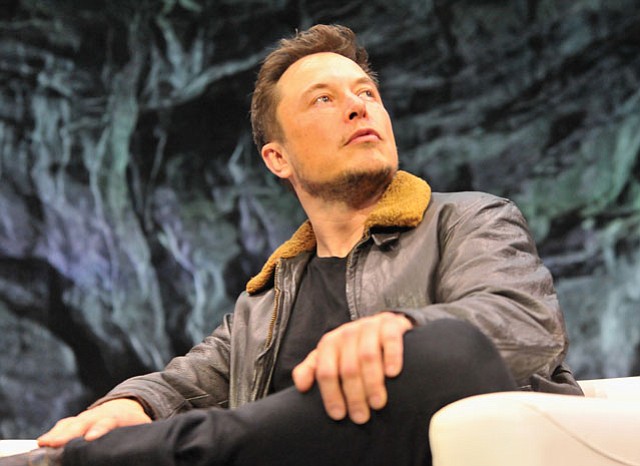 THE MONEY
Shares of Tesla, Musk's electric car company, were all over the map as this issue headed to press. Problems with producing its mid-market Model 3, and a recall of Model S sedans over a power steering issue caused a drop. Tesla continues to excite investors despite production problems and consistent losses, and Musk's compensation went up significantly over the past year. Tesla shareholders approved in March a new compensation package for the founder – a deal that raises Musk's stake in the company by $2.6 billion. Meanwhile, the valuation of Musk's Space Exploration Technologies Corp. soared to $21.5 billion in November, and that estimate came before the company's successful Falcon rocket launch in February. Those two businesses account for the huge gains in Musk's net worth over the past year. A third venture, the cheekily named Boring Co., has yet to make a financial splash. A $110 million investment in the company in April turned out to come mostly from Musk himself.
THE BUZZ
Musk, who owns five Bel Air mansions, spent April camped out at Tesla's Fremont factory in order to address myriad questions with production of the company's electric vehicles. His Northern California cram session coincided with what seemed to be significant advances for his SpaceX and Boring Co. operations in L.A. The Los Angeles City Council approved in May plans for a SpaceX site at the Port of Los Angeles that would transport rockets by sea. And council members were set to vote on whether to exempt the Boring Co. from the normal environmental impact study so it could dig a 2.7-mile preliminary tunnel in west Los Angeles.
NET WORTH
$19.6 billion
+38%
Last year: $14.2 billion
AGE: 46
RESIDENCE: Bel Air
SOURCE OF WEALTH: Electric automobiles, aerospace, e-commerce
For reprint and licensing requests for this article, CLICK HERE.