MBA Guide: Pepperdine Graziadio Business School - Best for the World Leaders
Custom Content by the Los Angeles Business Journal
Monday, May 14, 2018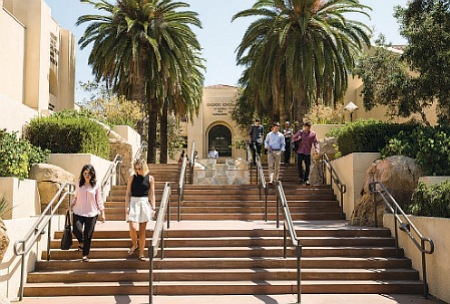 The Pepperdine Graziadio Business School recently surveyed more than 1,000 millennials about their job prospects, current careers and future goals in the smart machine age. One in 10 see automation as a primary risk to their careers, and more than one third believe that within 20 years, machines will be able to do the job they do today.
Pepperdine Graziadio strives to empower our students to become Best for the World Leaders that envision, develop and catalyze unseen opportunities wherever they live and work, and reimagine business in a smart machine age with advanced artificial intelligence, massive computing power and increasing global connectivity. With more companies embracing social and corporate responsibility as a key focus, it is important that, in addition to business acumen, MBAs know organizations can "do well by doing good," inspiring co-workers and others to enhance business and humankind.
With an entrepreneurial spirit and a global focus, the Graziadio School advances experiential learning in small classes that deepen connections and stimulate critical thinking. At Pepperdine Graziadio, our values-based education takes a holistic approach to developing students into Best for the World Leaders, focusing on the educational, spiritual and ethical aspects of our students' education and lives. Our Socially, Ethically, and Environmentally Responsible (SEER) program, woven into all courses, emphasizes the importance of responsible business strategy, and our wide array of experiential learning and study abroad opportunities provide our students with a broader perspective of business. Over 50 years, a common thread among our over 40,000 alumni is the passionate pursuit of new ventures and innovative ideas that serve a higher purpose.
EXECUTIVE DOCTOR OF BUSINESS ADMINISTRATION (DBA)
Pioneering the next frontier in executive education and designed specifically for the accomplished executive, the Executive DBA provides those seeking to deepen and sharpen their professional knowledge with the opportunity to tackle a challenging business issue through applied research. The program includes six intensive residential sessions at our stunning Malibu campus, in-person and online advising, self paced coursework and independent research that fits an executive's schedule.
EXECUTIVE (EMBA) AND PRESIDENTS AND KEY EXECUTIVE (PKE) MBA DEGREE PROGRAMS
Our executive degree programs are designed to support your professional as well as your personal development as a leader. In our executive degree programs you can renew your mind, reignite your spirit and connect with a network of seasoned executives and entrepreneurs that will become your personal boardroom for life.
PART-TIME DEGREE PROGRAMS
For reprint and licensing requests for this article, CLICK HERE.
Prev Next