MBA Guide: An MBA from Woodbury University - Your Competitive Edge
Custom Content by the Los Angeles Business Journal
Monday, May 14, 2018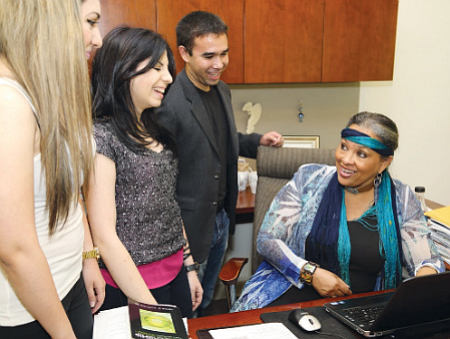 How do you turn a job into a profession, and turn a profession into a career? Especially when you're already working? How do you both sustain yourself and advance yourself – while actually retaining quality of life?
For many, graduate school is one answer, one avenue. While grad school is never a one-size-fitsall proposition – a graduate degree is not required or appropriate in every field – it's invaluable, even essential, in many. That's especially true for a Master's in Business Administration. For those with an MBA, earning power over a lifetime is a clear, compelling rationale; statistics indicate that those with graduate degrees can expect to make up to 50 percent more than those without.
Woodbury's MBA program is about three things: Engaged Sustainability, Authentic Leadership, and Self Empowerment. The program fits into busy professional lives while providing the quality students demand of an MBA. Woodbury's business program is the oldest in the West – an intensive 36-credit curriculum, with one-year and two-year program-completion options, structured around seven-week sessions, with evening and weekend classes available. Accredited by the Association to Advance Collegiate Schools of Business, Woodbury School of Business is among the top 5 percent of business schools globally.
Whether looking to transition into a new industry, start your own business or further your career in your current field, an MBA from Woodbury University gives you a competitive edge: learning how to think through problems from a creative, results-oriented approach called design thinking; integrating ethical leadership and civic engagement in business decision-making; understanding how to view business from a 360-degree perspective, whatever the field, and thereby reach innovative, effective solutions; and focusing on entrepreneurship, placing students at the forefront by providing the tools and confidence needed to turn vision into action.
Woodbury School of Business maintains an 18:1 student/faculty ratio, which fosters a highly personalized setting where students receive the mentoring they need to achieve success after graduation. From Burbank to Bangalore, commerce is now international, multicultural, and challenging in fascinating ways. Woodbury reflects this diversity and equips students to harness the power of multiple perspectives. Students emerge from the MBA program with a sound knowledge base in accounting, finance, marketing, leadership, strategy, and the networking skills necessary to move to the next level, and beyond. An MBA from Woodbury will prepare you for mid-to-senior level careers in general management, accounting, finance, marketing, human recourses, and operations both in the For-Profit and Nonprofit sectors.
Prev Next
For reprint and licensing requests for this article, CLICK HERE.