MBA Guide: College of Business Administration at Cal Poly Pomona
Custom Content by the Los Angeles Business Journal
Monday, May 14, 2018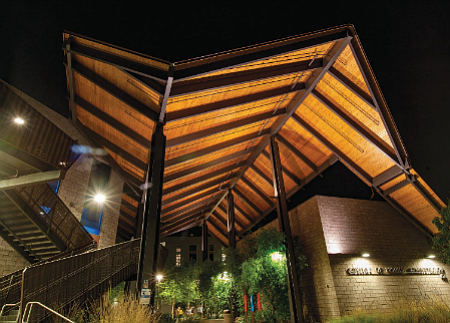 As Southern California's only polytechnic university, the College of Business Administration (CBA) at Cal Poly Pomona takes pride in building tomorrow's leaders through a learn by doing approach to education. Applying theories in engaging classroom exercises and in a real-life setting for actual companies allows the CBA to enhance the learning experience for our students, and makes our graduates more desirable to employers.
Cal Poly Pomona students are assured a quality learning experience – our university is WASC accredited. In addition, we are accredited by the AACSB at the college level—which puts the CBA among the top 5 percent of the world's business schools. A core CBA belief is providing a premium education while keeping tuition fees low enough to remain accessible to motivated individuals with limited financial resources. The benefit of affordable tuition rates and evening classes makes choosing CBA a compelling value proposition for working professionals. Whether it's a mid-level executive wanting to step up on the corporate ladder or a seasoned professional looking to change scenery with a switch to a different career path, flexible class options allow our students to pursue advanced business degrees while maintaining their current employment. A centralized location puts the CBA in the middle of all Southern California has to offer. The heart of Los Angeles is 30 miles away and minutes from the borders of three other major counties — Orange, Riverside, and San Bernardino.
Built on 813 acres of land deeded by breakfast cereal magnate W.K. Kellogg, the CBA has embraced the enthusiasm for entrepreneurship and forward thinking approach to business employed by Kellogg while building his empire. His influence is still felt today as descendants of Kellogg's prize winning Arabian horses gallop through the same fields offering an inviting sense of nature on the doorstep of a global hub. The best of yesterday is paired with today's latest in a new CBA complex equipped with state-of-theart classrooms and computer labs. Housed across the tranquil courtyard is an administration building for easy access to faculty and staff.
The CBA offers a full-time cohort based MBA which is typically completed in 4 semesters, and is designed with the flexibility to be completed in one year at an accelerated pace. The Master of Science in Accountancy (MSA) offers both a one year accelerated program and a general formatted program that can be completed in four semesters. While the acclaimed Master of Science in Business Administration (MSBA) with a focus on information assurance typically takes 4 semesters to complete. In addition to our learn by doing philosophy, the CBA differentiates its graduate business programs from other institutions by keeping classes small to promote a high level of student-professor and peer-to-peer interaction. Easy access to dedicated well-published faculty and professors with extensive industry experience and connections ensure CBA students have the support network available to graduate with insight student assistants cannot provide. Ready to take the first step in joining large and growing alumni association with robust networking opportunities? Our holistic admission criteria lead to cohorts of talented students that enhance the learning experience and create the foundation for lifelong collaborations, too.
Applications for Cal Poly Pomona CBA's Graduate Study Programs are due May 31, 2018, and classes start on August 23, 2018. Visit www.cpp.edu/cba/grad to become a part of our 2018 cohort.
NAME OF INSTITUTION
Cal Poly Pomona
NAME OF BUSINESS SCHOOL OR PROGRAM
College of Business Administration Graduate Programs
BUSINESS SCHOOL DEAN
Erik Rolland, Ph.D. (erolland@cpp.edu)
YEAR INSTITUTION WAS FOUNDED
1938
YEAR BUSINESS SCHOOL OR PROGRAM WAS STARTED
1968
TOTAL MBA ENROLLMENT
71
MBA PLATFORMS OFFERED
• Part-time MBA
• Full-time MBA
• Hybrid MBA courses (start date Fall 2018)
• Master of Science in Business Administration (MSBA)
• Master of Science of Accountancy (MSA)
• Accelerated MSA
MBA AREAS OF EMPHASIS OFFERED
Information Assurance, Accounting, General
LENGTH OF PROGRAMS
Accelerated MSA: 1 year
Full-time MBA: 2 years
MSBA: 2 years
PROGRAM CAMPUS OPTIONS
Face-to-face (some MSA and MBA courses are online/hybrid)
PROGRAM ACCREDITATIONS
AACSB, WASC
RANKINGS
• A Princeton Review Top Business School
• Ranked 4th in the West and 151 Nationally in the US News and World Report
TOTAL COST OF MBA
• In-state: approximately $26,000
• Out-of-state and international: approximately $39,000, for 2-Year Degree
REQUIRED TESTING
GMAT/GRE, waive on a case by-case basis TOEFL or IELTS for international applicants
UPCOMING INFORMATION SESSIONS
Visit www.cpp.edu/cba/grad for dates and locations
APPLICATION DEADLINES
May 31st, 2018
PROGRAM CONTACT INFORMATION
Director of Graduate Programs:
Tarique Hossain, Ph.D.
tmhossain@cpp.edu
Graduate Advisor:
Tricia Alicante, M.A.
taalicante@cpp.edu
Graduate Programs Department Coordinator:
Marcus Suarez, B.S.
Masuarez@cpp.edu
www.cpp.edu/cba/grad;
(909) 869-2363
Text/SMS: (909) 632-7863
For reprint and licensing requests for this article, CLICK HERE.