MBA Guide: The California Lutheran University School of Management - Shape the Future of Business, Starting with Your Career
Custom Content by the Los Angeles Business Journal
Monday, May 14, 2018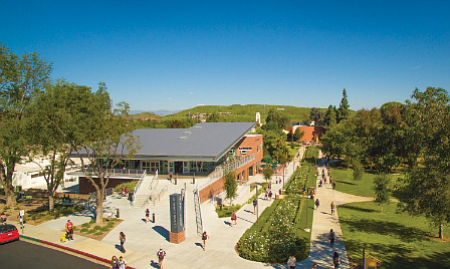 Cal Lutheran's School of Management offers graduate business programs designed to provide the environment, flexibility and support you need to succeed. Accelerate your career progression, change careers, boost earning potential, unleash your inner entrepreneur, or select the combination that meets your individual goals.
MBA
The Cal Lutheran MBA is focused on helping you build your career through experiential learning, with outcomes that are immediately applicable in the workplace. You'll have the opportunity to build a powerful network among your peers as well as with leaders in the business community. The School of Management sponsors and hosts many unique events that create opportunities to learn about new ideas, network and forge relationships. Graduates of the Cal Lutheran MBA program work with some of the leading employers in the region.
From enrollment to graduation, you'll have the individualized support from faculty and staff that Cal Lutheran is known for. Beyond the supportive environment, you'll have the flexibility of four year-round terms, so you can start earning your degree when it is most convenient for you. Choose from full-time, part time, or online schedule options and specialization tracks in:
• Enterprise Innovation and Entrepreneurship
• Finance
• Human Capital Management
• Information Technology
• International Business
• Marketing
In addition to the rich academic environment, MBA student resources include lifelong career services, study abroad immersion experiences and access to our Westlake Center's seminars, speaker series and creative incubation spaces for entrepreneurs. Learn more at CalLutheran.edu/MBA.
EXECUTIVE MBA
Our Executive MBA is an 18-month program for working professionals with at least five years of managerial experience who have already achieved some success and want to reach their next big goal.
Designed with busy lifestyles in mind, the cohort program features 15 courses delivered in a hybrid model (8 on-campus courses, 7 online courses). The on-campus courses are offered in a compressed weekend format. The curriculum is interdisciplinary, experience-driven, and organized around five key areas:
• Leading operations
• Managing process
• Leading strategy
• Leading people
• Professional advancement
Each key area features relevant course topics including: innovation and organizational entrepreneurship, global economics for executives, strategic decision making for high performance, organizational design, and leadership and change management.
To assist students in balancing their education with personal and professional obligations, the program is structured to include course scheduling and pre-registration, books, lunch, parking and even a gym membership!
The Cal Lutheran Executive MBA provides the tools to reach your peak potential. Learn more at CalLutheran.edu/EMBA.
THE MBA FOR FINANCIAL PLANNERS
The MBA in Financial Planning at Cal Lutheran is one of the country's most comprehensive master-level programs for financial planning professionals, providing the acumen needed to excel. The program is offered entirely online, on our main campus in Thousand Oaks, or a blend of both with options for full or part time enrollment. To enhance one on one interaction, class sizes are limited and taught by world-class faculty with an emphasis on ethics, character and client needs.
Courses are available in two tracks – for those who seek their CFP and for those who already have it. In Track 1, upon completion of the program, you will earn an MBA in Financial Planning and gain eligibility to sit for the prestigious CFP Certification Exam. Track 2 is identical to the first track except for the fact that five of the introductory-level financial planning courses are replaced with advanced financial planning courses and interdisciplinary-study courses. Upon completion of the program, you will earn an MBA in Financial Planning. Learn more at CalLutheran.edu/FP
NAME OF INSTITUTION
California Lutheran University
NAME OF BUSINESS SCHOOL OR PROGRAM
School of Management
BUSINESS SCHOOL DEAN
Dr. Gerhard Apfelthaler
YEAR INSTITUTION WAS FOUNDED
1959
YEAR BUSINESS SCHOOL OR PROGRAM WAS STARTED
1986
TOTAL MBA ENROLLMENT (ALL PLATFORMS OFFERED)
600
MBA PLATFORMS OFFERED
• Full Time
• Executive
• Weekened
• Online and Cohort
MBA AREAS OF EMPHASIS OFFERED
Emphasis Areas: Finance; International Business; Marketing; Human Capital Management; Entrepreneurship and Information Technology
Post Graduate Certificates: Supply Chain Management; Finance; International Business; Marketing; Human Capital Management; Entrepreneurship and Information Technology
LENGTH OF PROGRAMS
Varies between 12 to 24 months
PROGRAM CAMPUS OPTIONS
Thousand Oaks; Woodland Hills; Oxnard and virtual
PROGRAM ACCREDITATIONS
WASC, ACBSP Candidate for Accreditation
RANKINGS
• Top 10 Online MBA Program in California, College Choice
• 2016 Top Buisness School in California, Orange County Business Journal
• San Fernando Valley Business Journal Impact Award
TOTAL COST OF MBA
• $36,900 for MBA
• $45,450 for EMBA
REQUIRED TESTING
GMAT (waiver available)
UPCOMING INFORMATION SESSIONS
June 7: Woodland Hills Campus
June 12: Oxnard Campus
June 14: Main Campus
July 18: Online
Plus other special sessions – by invitation
APPLICATION DEADLINES
• Summer 2018: April 15, 2018
• Fall 2018: July 15, 2018
• Online Term 5: April 15, 2018
• Online Term 1: June 15, 2018
• EMBA: Aug 1, 2018
PROGRAM CONTACT INFORMATION
Emily Yamamoto,
MBA Program Manager
www.callutheran.edu/management
(805) 493-3340
For reprint and licensing requests for this article, CLICK HERE.