Soon-Shiong's Purchase of LA Times Still Weeks Away
Wednesday, May 9, 2018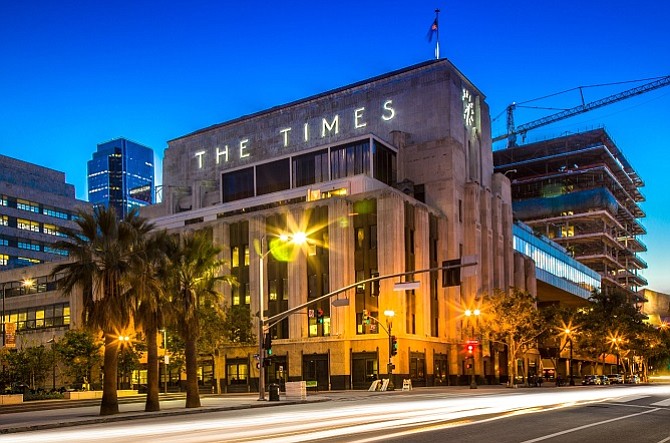 Patrick Soon-Shiong will close his purchase of the Los Angeles Times from tronc Inc. in a few weeks, said tronc CEO Justin Dearborn during a shareholder call May 9.

"Weeks to a month," Dearborn said, in response to an investor question. "I am hopeful."
Soon-Shiong's acquisition of tronc's California newspapers was originally scheduled to be completed in late March or early April.
Deaborn cited a services agreement that is holding up the sale, a pact that is intended to cover Soon-Shiong's use of tronc technology and the company's administrative and human resource operations over the next 12 to 18 months.
"We have an obligation to provide services for 12 months," Deaborn said, noting that the Times, San Diego Union-Tribune, and roster of Los Angeles and San Diego community newspapers are a, "fairly complex operation."
"There wasn't a diligence period before this transaction," the tronc company chairman added.
Soon-Shiong struck a deal to acquire the Times and tronc's other California newspapers in February.
The biotech billionaire and founder of Nant Capital met with Times and Union-Tribune staff reporters in April, at which time he announced that the Times will move offices from downtown Los Angeles to El Segundo.
Soon-Shiong has since continually met with Union-Tribune editors since his April foray to San Diego, according to Phyllis Pfeiffer, president of the San Diego Union-Tribune community press.
Pfeiffer said that colleagues she speaks with fully expect the sale to close, a view that Dearborn echoed on the call.
While declining to provide a timetable, Dearborn noted that tronc has until Aug. 7 to close the deal, or six months after it was filed with the SEC. Federal regulators approved Soon-Shiong's acquisition in early March.
Messages left with Soon-Shiong's spokeswoman May 9 were not returned.
Media and entertainment reporter Matthew Blake can be reached at (323) 556-8332 or mblake@labusinessjournal.com
For reprint and licensing requests for this article, CLICK HERE.