2018 CTO Awards: USC IT TEAM
Custom Content by the Los Angeles Business Journal
Tuesday, May 1, 2018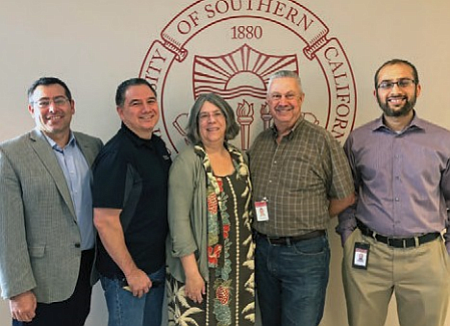 IT TEAM OF THE YEAR
The USC Village IT project team is comprised of staff members from across USC Information Technology Services, including staff from the Network Engineering and Communications Infrastructure, Information Security, Identity and Access Management, Service Management, Field Services, and Customer Service groups. The project team leaders have over 66 years of combined experience in the field of information technology, spanning higher education, health care, industry, and banking.
The project team includes members who have participated as co-principal investigators on two National Science Foundation funded projects with Yale University faculty, worked with the Los Nettos regional network since its formation 30 years ago, worked alongside the founding fathers of the Internet at USC's Information Sciences Institute, and received a Corporation for Education Network Initiatives in California Founders Circle Award. Team members also include nationally renowned engineers with experience working with both NSF and the Department of Energy, including work on US LHCNet, which manages transatlantic connections to facilities at the European Organization for Nuclear Research.
This cross functional team worked in collaboration with local community partners and other vendors to provide a world-class network infrastructure and service at USC. Their work continues to impact over 45,000 students, 4,000 full-time faculty, and 15,000 staff members at the university; members of the local community; specialized research and academic facilities throughout Los Angeles; and the hospitals and clinical, research, and education facilities at the university's Health Sciences campus. The USC Village – an incredible 15-acre complex, possesses a state-of-the-art IT infrastructure thanks to this uniquely talented team.
For reprint and licensing requests for this article, CLICK HERE.