2018 CTO Awards: Boingo Wireless Wins in Culture, Innovation and Talent
Custom Content by the Los Angeles Business Journal
Tuesday, May 1, 2018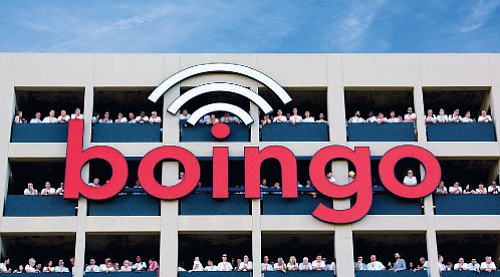 Los Angeles is now one of the world's fastest growing tech ecosystems. At the academic level, there's Caltech, which generates more patents than any other university, and UCLA, which has more startups founded by graduates than any other school in the nation. Beyond startups, there's L.A. tech mainstays like Boingo Wireless (NASDAQ: WIFI) that boast world-class innovation and has called the City of Angels home for nearly two decades.
Boingo's mission is simple: to help the world stay connected to the people and things they love. The company does this by building Wi-Fi, cellular distributed antenna systems (DAS) and small cell networks at big venues like airports, stadiums, campuses, military bases, retail locations and commercial real estate properties, and then monetizes those networks with a number of unique products and services.
You'll find Boingo connecting people at locations like Manhattan's Oculus/World Trade Center Transportation Hub, Chicago's Soldier Field—home of the NFL Chicago Bears—and airports around the world, from JFK to Dubai. Here in L.A., if you've been to LAX and the Hollywood Bowl, chances are you were connected to a Boingo wireless network.

THE BOINGO STORY: FROM STARTUP TO POWERHOUSE
Boingo has come a long way since its founding back in 2001, when there was no such thing as "Silicon Beach." It was a time when a group of Boingoites worked from a small office in Santa Monica. This team had a vision that a new, cool technology called "802.11" (which would soon be known as "Wi-Fi") would proliferate from a grass roots level because it operated in unlicensed spectrum. They had a dream that one day people could connect to the wireless internet anywhere, with any device, and tirelessly advocated for Wi-Fi integrations within consumer electronics to help the industry move toward wireless connectivity.
Today that dream is reality—Wi-Fi is ubiquitous and Boingo is front and center. And along the way, the company became one of the rare 5% VC-backed companies that went from startup to IPO and a $1 billion brand.
But Boingo's story is more than just Wi-Fi.
Many people recognize Boingo as the company that sells Wi-Fi access to consumers in airports. While this was the foundation of its business, today—16+ years later—there is much more to the journey. The company is not only a leading Wi-Fi company in the world, it has a thriving high-speed internet and IPTV business for the military and is considered the largest provider of indoor cellular DAS networks in the U.S. Boingo also works closely with Tier One carriers like Sprint to solve the mobile data crunch, caused by bandwidth-intensive activities like streaming and sharing, by offloading their customer data onto Boingo Wi-Fi networks.
For the L.A. real estate market—and globally—Boingo's cellular business is designed to help properties meet the rising demand for seamless mobile coverage, which is essential for securing and retaining tenants and delivering operational value to owners. Its DAS and small cell solutions bring connectivity to life by deploying small antennas within a building and integrating them into a cohesive cellular network. The wireless infrastructure can be installed in a range of indoor buildings, whether new construction, aging historic buildings or modern architectural structures, and are key to future-proofing a property.
BEST PLACE TO WORK IN L.A.
Now a L.A. tech leader, for three years in a row Boingo has been named one of Los Angeles Business Journal's "Best Places to Work" for high marks received across leadership, corporate culture, pay and benefits, work environment, and training and development.
Located in the Westwood neighborhood of Los Angeles, Boingo's award-winning worldwide headquarters boast views of the Pacific Ocean, Catalina, Hollywood sign and J. Paul Getty Museum. Employees are offered incredible benefits packages and perks, including: competitive pay and equity in the company (RSU's); 401(k) savings plan with employer matching; medical, dental and vision insurance; unlimited vacation; gym reimbursement; subsidized electronic devices like smartphones, tablets and fitness devices; annual memberships for Amazon Prime, Costco and AAA; on-site massages, as well as yoga and stretching classes; stocked kitchen with snacks, drinks and fresh vegetables and fruit; company match on charity donations; and tuition reimbursement.
Annual pool tournaments, catered lunches, Halloween costume contests, summer picnics and bowling nights are also part of Boingo's fun and engaging culture. The company even nabbed the 2017 Timmy Award for "Best Tech Work Culture in L.A."
Boingo wins awards not only for its culture and work environment, but its cutting edge innovation as well. Recent accolades include: eight-time winner of "Best Wi-Fi Service" in the Global Traveler GT Tested Awards, 2018 Cablefax Tech Award for "Best Wireless/Wi-Fi Solution," 2017 Wireless Broadband Alliance Award for "Best Converged Operator Deployment;" 2017 Fierce Innovation Award for "Best Next-Gen Deployment, Wireless;" and 2017 Mobile Breakthrough Awards for "Next Gen Wi-Fi Operator Deployment of the Year" and "Overall Wireless Broadband Solution of the Year."
WOMEN IN TECH
Boingo stands for workplace diversity and offers a broad range of support, programs and resources to advance women in technology. From recruiting women for leadership positions to mentoring a new generation of engineers through Girls Who Code, Boingo is a strong advocate for closing the technology field's gender gap.
Most recently, the company launched programs with the Society of Women Engineers (SWE), Girls Who Code, Center for Excellence in Engineering and Diversity (CEED), LightReading Women in Comms, Path Forward, UCLA WIT (Women in Technology) and Kid City/Urban Foundation Los Angeles.
In support of growing and hiring talent from the local community, Boingo is involved with the Bixel Exchange and its Tech Talent Pipeline initiative. The company also participates in Mayor Eric Garcetti's Tech Fair LA.
LOOKING AHEAD TO 5G
Boingo has been a pioneer in wireless connectivity, driving innovation in both cellular and Wi-Fi. Its next focus is 5G, the newest wireless standard that will succeed 4G and power smart cities, smart buildings and smart homes. The launch of 5G will bring a transformational shift in mobile services and presents a big upgrade cycle opportunity for Boingo's business.
The most significant change we'll see with 5G networks is convergence, where a combination of licensed and unlicensed technologies come together to make up the standard's DNA. Given Boingo has a long history of deploying both Wi-Fi (unlicensed) and cellular (licensed) networks, it is well positioned to take advantage of this new era in connectivity.
Boingo has had an incredible journey and it doesn't plan to stop any time soon. While Los Angeles may be known as the mecca of the entertainment industry, remember there's companies like Boingo that have molded the city as the place to be in technology.
To learn more about Boingo, visit boingo.com.
For reprint and licensing requests for this article, CLICK HERE.