Medical Makeover
California Hospital is pouring $215 million into downtown campus.
Friday, March 30, 2018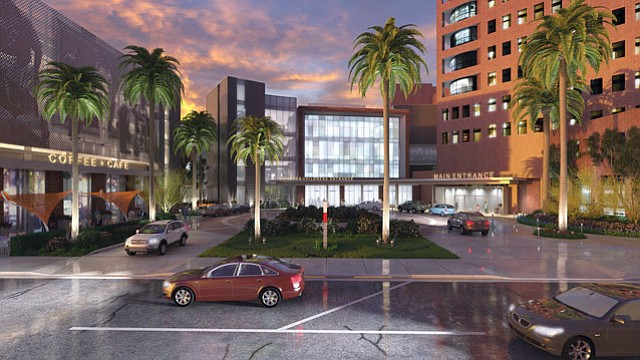 Dignity Health California Hospital Medical Center, the only trauma center in downtown, is poised for a $215 million makeover to make it earthquake safe and serve a growing population there.
The 131-year-old medical center outlined plans for a new four-story, 345-bed hospital tower and nearby parking garage last week during in an exclusive interview with the Business Journal.
Construction is expected to begin this fall, with completion slated for 2020.
"This is the downtown hospital for Los Angeles," said Margaret Peterson, president of the hospital owned by health care consortium Dignity Health. "What I find exciting is that we are part of the renaissance of downtown by providing an essential healthcare component in an urban setting."
San Francisco-based Dignity Health, which operates 40 hospitals across the western United States, is investing $165 million in the project. The remaining $50 million is being raised by the California Hospital
Medical Center Foundation.
The hospital is located at 1401 S. Grand Ave., in the South Park district of downtown, where it's squarely situated amid dramatic growth and change.
Its service area includes a broadly diverse mix of patients – from the poorest stretches of Skid Row and South Los Angeles to a rising skyline of upscale condominiums downtown. South Park itself, with 9,000 new residential units under construction or in the planning stage, is expected to triple in population to 21,000 residents by 2021.
The aging California Hospital – with a half-century-old acute care tower in need of a state-mandated seismic retrofit – was ill-suited for the downtown boom, executives said.
The first phase of the project will begin with construction on the 150,460 square-foot tower with 345 licensed hospital beds – 27 more than the current facility. Larger rooms to accommodate visiting families are planned.
The $205 million building will include a beefed-up trauma center and emergency room. California Hospital already has one of the busiest ERs in Los Angeles County with 85,000 visits a year.
The tower also will feature new obstetric-care facilities, including a neo-natal intensive care unit. The hospital now delivers about 350 babies a month.
The current 9-story hospital tower built in 1964 will be transformed into an outpatient building in lieu of a costly seismic retrofit.
California Hospital will build a six-story parking structure with 8,000 square-feet of ground-level shops for cafes, gift shops and other businesses.
The nearly 500-space garage will replace a Pacific Health Resources medical office building next to the hospital.
The new campus was designed by Devenney Group, based in Phoenix, and will be constructed by Swinerton Builders, based in San Francisco.
Peterson said she's looking forward to welcoming downtown dwellers, homeless residents and Los Angeles families who have come to the hospital for generations.
"It continues the legacy of being the center for health and wellness in the community we serve," she said.
For reprint and licensing requests for this article, CLICK HERE.