Who's Building L.A. (March 26): Young Israel of Century City - CENTURY CITY
Custom Content by the Los Angeles Business Journal
Monday, March 26, 2018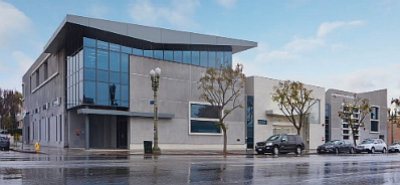 PROJECT HIGHLIGHTS ■ New construction of two buildings ■ Complete renovation of existing synagogue including new exterior façade, interior structural framing, MEP, new roof structure ■ Reinforcing structural steel has been added ■ Beautiful design includes laser cut panels, floor to ceiling high end shelving, radius decorative structural steel entry stair with glass, elevator and separate material lift
Young Israel of Century City is much more than simply a beautifully reimagined building; it is truly the center of a close-knit community in the heart of West LA's Jewish culture. Situated on Pico Boulevard between Rexford and Glenville, the Modern Orthodox synagogue brings together three previously disjointed buildings to form a cohesive gathering place complete with a renovated sanctuary, social hall (that doubles as a Beit Midrash – a place of learning), multiple youth rooms, as well as a large Kosher kitchen, rabbinical staff offices, and a breathtaking rotunda at the synagogue's bright main entryway. It also more than doubled its physical size, from 9,675 square feet to 20,700 square feet. Two of the project's three buildings were demolished to make way for new construction, while the sanctuary itself was retained and completely renovated, maintaining the history and heart of the building.
The project consists of the renovated Schlesinger Sanctuary to the east, joined at the center with a brand new expansive rotunda meant for gathering and socializing, which in turn connects to the newly-constructed Kornwasser Building at the western end of the project. The latter contains the ground floor Mintz Beit Midrash/Social Hall as well as the second floor, which features the Teichman youth rooms, the Nagel Library wing and staff offices. A suspended staircase connects the first and second floors, or guests are welcome to use the newly installed elevator.
For reprint and licensing requests for this article, CLICK HERE.