Who's Building L.A. (March 26): Working Together for a More Inclusive Industry
Custom Content by the Los Angeles Business Journal
Monday, March 26, 2018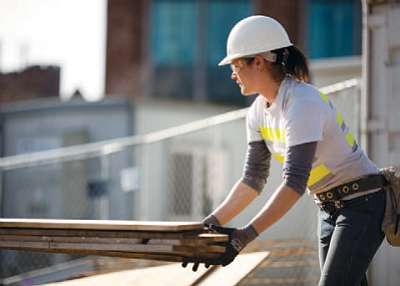 It was interesting watching all the online posts and discussion during Women in Construction Week earlier this month. It's amazing to think about how far our industry has come with women serving in roles ranging from laborers to vice presidents.
As far as we have come, we still have steps to take. Women and people of color are still underrepresented in our industry. Are young women really considering careers in our business, where we have a critical labor shortage to fill?
Our entire industry needs to focus on ways we can not only attract more women and people of color, but retain them through inclusive cultures and fun, fulfilling careers.
GIVING CULTURE CHANGE A PUSH
We have to acknowledge that many industries' cultures have not always been welcoming for women and people of color. Informal teambuilding events have often been planned without consideration or invitation for everyone. A colleague told a story about not being invited on a fishing trip with her male team members. They didn't think it was something she would be interested in, though, if they had asked, they would have learned she loves to fish. When women are left out of softer networking opportunities like that, it can affect the relationships they build and it reinforces an environment where women are separate.
Our Skanska Women's Network has been created to help bring those issues to the fore. Through meaningful programming and a well-organized local chapter leadership structure, we've built an inclusive way for these topics to be addressed. This group, sponsored by our top executives, provides a comfortable forum for dialogue that can change a culture. It has changed the way we approach everything from teambuilding to professional development discussions and, at the very least, it doesn't assume culture will magically change without work. It's fine to say everyone is equal in your eye, but changing an office culture takes more than that. Other industries have had these sorts of internal networking groups for years and we need to keep pace if we're going to attract the best.
We know from research that those recruits and current employees want to look around and see themselves reflected in their leadership. If that's not possible, we have to encourage executives to actively sponsor employees, going beyond mentoring to advocate for their inclusion at the management table.
When we get this right, we will have more inclusive teams that can make more informed business decisions, and deliver better business results.
RECRUITING BEYOND THE NORM
Our efforts to recruit talented college graduates are strong as an industry. The next step is showing how construction offers people without a degree a very well-paying career. To do so, we need to get in the game earlier, targeting high school – and even middle school – students. With strong local unions and our ability to support apprenticeship programs, we can move the needle for students who aren't looking to attend college and show them meaningful, lifelong work.
Once we have people in the door, we have to ensure the culture matches what they need to retain them. We're looking at a number of ways to not only create an inclusive culture, but one that lets people work in ways best for them while still delivering their work well. With laptops, mobile technology and more, sometimes the only barrier is people's perceptions. Beyond just flexibility, we're having discussions about what we can do to make sure we're offering the right kind of maternity or child care support. There are likely tough decisions to make, but it's a vital discussion to have… and the outcomes will affect us for years to come.
WORKING TOGETHER AS AN INDUSTRY
No one firm can do this alone. We certainly compete for talent, but we can make our entire industry more diverse. Our BootCamp program, which shows traditionally-underutilized small businesses how they can win work and grow, is a great example. When we help a women-owned subcontractor succeed, it fills in a new piece of the inclusion puzzle, creating new possibilities for employees and future entrepreneurs.
Ultimately, we need to capture the spirit of the kids who pause when walking by our project sites, looking on at the big machines. We have to do more to tell stories that bring people inside the job site fence. We also have to show how the work we do supports the economy and sustainability of our communities, too.
For all our progress, let's not let the conversation stall. We can change the face of our industry through a variety of efforts and, ultimately, make our businesses stronger.
Ellen Mair is Business Development Director at Skanska.
For reprint and licensing requests for this article, CLICK HERE.