Who's Building L.A. (March 26): Highland & Franklin - HOLLYWOOD
Custom Content by the Los Angeles Business Journal
Monday, March 26, 2018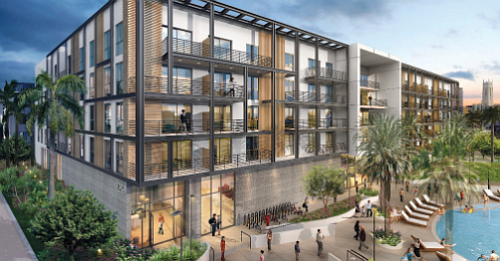 PROJECT HIGHLIGHTS ■ 118 residential units ■ 166,000 sq. ft. of floor space ■ 20,905 sq. ft. of landscaped grounds ■ Three levels of parking for 218 vehicles
Just a few blocks from Hollywood & Highland and the Hollywood Bowl, the construction of the Highland & Franklin apartments is underway. The six-story, 118 unit project is expected to be completed in 2019. Aside from its location in the heart of Hollywood, the project will offer spacious 1,2 and 3 bedroom units with stylish interiors. The building will feature attractive exterior materials of metal paneling, plaster and glass. The tenants will be treated to a spacious pool and spa area and nearly a half-acre of landscaped grounds including the pool deck area and interior courtyard. Other amenities include a fitness center and a theater for guests.
The project was developed by 1840 Highland Partners, LLC with Frymer Construction as General Contractor. The architect is Arquitectonica. The Highland & Franklin project is an exciting addition to the numerous other developments that are ongoing throughout Hollywood.
For reprint and licensing requests for this article, CLICK HERE.