Zealous Advocate All Around: Glaser Built Firm's Lineup of Lawyers Into an 'Embarrassment of Riches'
Business Hall of Fame 2018
Friday, March 23, 2018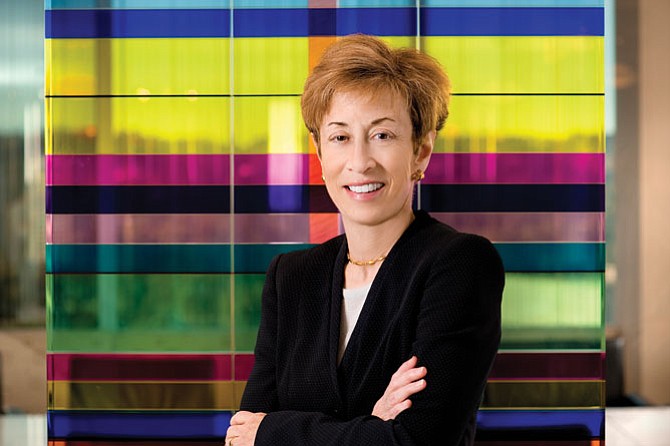 Patricia Glaser has never shied away from a fight or backed down from her core beliefs in zealous advocacy and due process.
Her toughness and aggressiveness on behalf of her clients has served Glaser well for her 45 years as a licensed California lawyer. It's also been a cornerstone of Century City-based Glaser Weil Fink Howard Avchen & Shapiro as it has grown into a go-to law firm for businesses and business people in trouble – or who want to avoid trouble altogether.
Glaser's personal attributes and professional dedication were key reasons she was honored as Business Leader of the Year for 2018 in the Services category during the Business Journal's March 21 Business Hall of Fame Awards luncheon at the Millennium Biltmore hotel.
Glaser's reputation and record has provided a steady stream of work for her firm, and it's grown wider with the #MeToo movement.
The public reckoning of sorts has prompted myriad accusers to speak out against sexual misconduct by naming their alleged perpetrators on social media and in the press. Glaser's firm has its share of clients who have been touched by it, including the individual case that set the movement off.
The firm represents movie producer Harvey Weinstein, who is waging a legal battle against his former business, Weinstein Co. The company fired him three days after the New York Times ran a bombshell story detailing accusations of decades of sexual harassment allegations against him.
But Weinstein Co.'s response – or lack thereof – to requests for internal emails, text messages and other forms of communication stemming from the business dispute has been "aggravating," said Glaser, who represents Harvey Weinstein on business matters only.
"They've thrown every roadblock in our way known to man – or woman," she said.
Glaser's firm represents other clients accused of sexual misconduct and in the public eye, including former state Assemblyman Matt Dababneh of Woodland Hills, Olympic gold medalist Shaun White and Republic Records president Charlie Walk.
Some sexual misconduct victims have been "terribly wronged," Glaser told the Business Journal, but the accused are nonetheless "entitled to an investigation and or a trial."
Glaser is chair of her firm's litigation department, a role that means she's been involved in countless legal maelstroms that have hit Southern California in recent years.
Her list of past clients include Indiana Pacers owner Herb Simon and his wife, Bui, for whom she won several trials in wage-and-hour lawsuits filed against them by former employees.
Prev Next
For reprint and licensing requests for this article, CLICK HERE.