Westside Firm at Your Service: Files Claims for Delayed or Cancelled Flights
Friday, March 23, 2018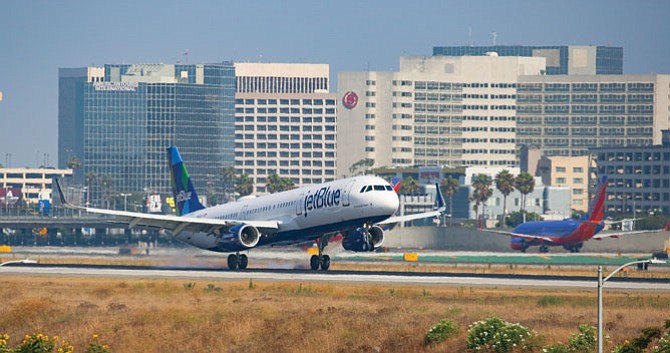 There were more than one million delayed flights in the United States last year and almost 100,000 other flights were cancelled or diverted, according to data from the U.S. Bureau of Transportation Statistics.
That's a full 20 percent of the more than 5.6 million flights in and out of U.S. airports in 2017.
While most see these delays as an inconvenience, Beverly Hills-based Service Inc. saw a market opportunity. The company, founded in 2015, offers a service to flyers that automatically files claims on their behalf if a flight is delayed or cancelled, or if any other promised service is not delivered.
"I was on a plane, and the guy next to me bought a Gogo (wireless internet) pass but the outlet wasn't working," said founder and chief executive Michael Schneider. "Like all frequent travelers, I was familiar with all the inconveniences that come with that. It occurred to me that frequent travelers have to spend hours complaining to get retribution for issues."
Service Inc. charges $49 for its app, which syncs to your email inbox and automatically files claims for flight delays and cancellations. Users keep 100 percent of any refunds, or can forego the initiation fee but surrender 30 percent of a claim to Service.
Although there's no law that requires airlines to provide remuneration for delays and cancellations, Schneider said airlines often give vouchers and miles if you take the time to complain.
The Service user doesn't even have to file a claim within the app as seven out of ten claims are completely automated. The app knows you're traveling since it's linked to your email. If the claim isn't automatic, Service reps will handle it themselves.
The company initially allowed users to report any customer service problem from any product or industry. Schneider said the company decided to focus exclusively on flights a year ago.
It added hotel bookings to the app last month. If your hotel room rate drops between the time you book and check in, you automatically get the difference. With 70 percent of hotel bookings being refundable, hotels have little leverage not to honor the claim, according to Service.
Schneider would not provide information about company revenue, but he said Service files 300 claims a day and has 100,000 users. Each customer saves $300 dollars a year on average and Service has saved users $2 million to date as a company.
The company said it collects data both from information disclosed during user signups and from anonymized user inbox data collected through Alphabet Inc.'s Google Analytics program. Service said that it does not share that data with third parties except for flight numbers, booking dates and airports, which it uses to check against other third-party information related to flight delays or hotel reservations.
Service has raised $5.1 million in funding from Founders Fund, with participation from Menlo Ventures, Maveron, 8VC, Arena Ventures and angel investors such as Alex Bard, Tikhon Bernstam, Brenden Mulligan and Robin Chan.
– Eli Horowitz
For reprint and licensing requests for this article, CLICK HERE.