Vested in Biotech: Doumani, Business Center Boons for UCLA
Business Hall of Fame 2018
Friday, March 23, 2018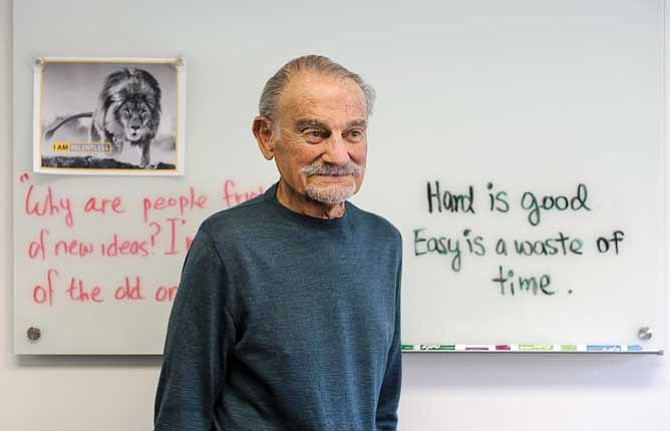 Roy Doumani has generated billions of dollars through a lifetime of real estate, finance, biotechnology ventures and education.
He launched the UCLA Business of Science Center to help turn the school's research into revenue.
He adds a dash of moxie as chief executive of the center.
"I don't believe in lecturing," Doumani said from his office at the California NanoSystems Institute, another UCLA center he helped found. "I believe in interacting. All of our classes are workshops. They put together teams. They pick a subject and start a project. They build companies."
Doumani's longtime dedication to the application of business principles to academic research brought him honors as Business Leader of the Year for 2018 in the Education category during the Business Journal's March 21 Business Hall of Fame Awards luncheon at the Millennium Biltmore Hotel.
The 82-year-old Venice resident is credited for his business savvy in starting a string of successful Los Angeles companies, from First Los Angeles Bank to Agensys Inc., which sold for $537 million, and Kite Pharma Inc., which sold last year for $12 billion.
He also is lauded for helping UCLA – which once made relatively little from its intellectual property and patents – earn $1.2 billion a year from its scientific research.
Doumani has helped spur a generation of business leaders through courses with titles such as "Business of Science," "MedTech Innovations" and "Healthcare Technology" at David Geffen School of Medicine at UCLA.
Christian Olano was a third-year law student and founder of a home health care firm when he stepped into a Doumani class in medical tech and innovation.
"I loved it," said Olano, 33, of Woodland Hills, founder of a group home for adults with developmental disabilities and an employee of Doumani. "Knowing that Roy is actually working with companies trying to move the needle forward to change the world – it inspired me."
Doumani, a wiry man with a bristly salt-and-pepper mustache and goatee, keeps a sparse white office that sports hand-written wall inscriptions: "I am relentless," "Hard is good/Easy is a waste of time," and "Why are people frightened of new ideas/I'm frightened of the old ones."
The son of Lebanese immigrants studied business and finance at UCLA, earned a law degree at USC, and had served as a reserve officer and as a paratrooper in the U.S. Army.
His approach to life, he said with a gleam, is innovation.
He got started in business in the Los Angeles commercial real estate market in the late 1950s/early1960s. He went on to join, and eventually own, Alison Co., a commercial real estate mortgage banking company, and later founded First Los Angeles Bank.
Doumani was diagnosed with aggressive prostate cancer in the 1990s, and was told that his days may be short.
He went to UCLA Medical Center, where Dr. Jean De Kernion successfully removed the cancer – and asked Doumani to start up a biotech company to cure it.
"I said, 'I can't help anybody if I'm not alive – so let's do this,'" he recalled.
Over the next two decades he helped found Agensys, Kite, Neural Analytics Inc., Momentum Biosciences, Trethera Corp., Spinal Singularity, just to name a few.
"I consider Roy to be one of the biotech heroes here – one of the key figures who contributed to the turnaround of biotech (in Los Angeles)," said Ahmed Enany, chief executive of the Southern California Biomedical Council, and advocacy group for the Los Angeles-area bioscience industry.
Doumani was just starting as a biotech investor when he was asked to raise "billions" for UCLA, he said. So he started writing checks, and eventually met with then-Chancellor Charles E. Young.
"I said, 'You can ask me for money, but you've got a gold mine here … I want to take an inventory of your real assets, the intellectual property that you've developed here,'" Doumani recalled. "He said, 'You're crazy.'"
Doumani took the inventory, and found that the university had invented Cox-2 inhibitor drugs that served as the basis for the drug Celebrex – but had never filed a patent. The university also discovered technology that could have served as the basis for drugs such as Viagra, he said, but had let the patents lapse.
He helped UCLA create Westwood Technologies as a technology transfer office to reap royalties from its research.
He launched the UCLA Business of Science Center in 2003. The center hosts experts to help guide graduate students, and holds competitions between student-based startup biotech companies.
"I want to build things that make people live longer and healthier, and enjoy a better life."
For reprint and licensing requests for this article, CLICK HERE.