Professor as Entrepreneur: UCLA's Belldegrun on to Next Biopharma Enterprise
Business Hall of Fame 2018
Friday, March 23, 2018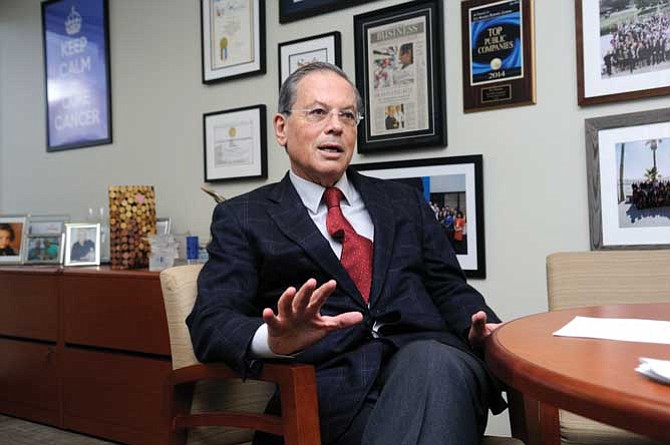 It wasn't enough for Dr. Arie Belldegrun to operate as a cancer surgeon at UCLA and crank out hundreds of scientific papers on urological cancers, gene therapy and myriad other topics.
The Israel-born physician also was determined to find a cure for the killer disease – and launch a string of Los Angeles companies to develop drugs to conquer it. His latest venture, Kite Pharma Inc., was acquired last summer for nearly $12 billion by Foster City-based biotechnology giant Gilead Sciences Inc.
"The whole idea is to develop drugs for cancer," Belldegrun told the Business Journal shortly after the sale. "When you talk with a patient, you see how desperate they are -- you get the urgency. Time is of the essence."
Belldegrun's contributions to global health care and L.A.'s growing biotechnology sector led to his selection as Business Leader of the Year for 2018 in the Health Care category during the Business Journal's March 21 Business Hall of Fame Awards luncheon at the Millennium Biltmore hotel.
The 68-year-old Bel Air resident is credited by local biotechnology leaders for his medical innovation and his success as a serial biotech entrepreneur.
"Arie created a $12 billion company," said Ahmed Enany, chief executive of the Southern California Biomedical Council, and advocacy group for the Los Angeles bioscience industry.
"He's inspiring. His ability to raise money and to pioneer biotech drugs is unmatched in the Los Angeles market."
The UCLA oncologist, who once hoped to become a concert violinist, has developed a knack for turning biotech into billions.
Belldegrun brought leading UCLA scientists together to launch Agensys Inc. two decades ago. The company, first known as UroGenesys, developed gene-based therapies for prostate cancer. Its monoclonal antibody technology soon led to the treatment of other cancers.
Agensys sold to Astellas Pharma Inc. of Japan in 2007 for $537 million.
Belldegrun had also helped found Cougar Biotechnology Inc., a Los Angeles company that produced a pill to treat late-stage prostate cancer. It sold to Johnson & Johnson in 2009 for nearly $1 billion.
But it was his next biotech business venture into immunology that stood to revolutionize medicine with a potential cure for cancer.

Belldegrun founded Kite Pharma in Santa Monica in 2009 to develop a radical therapy based on research pioneered by the National Cancer Institute to engineer the body's immune cells to attack malignant cells.
Kite sold to Gilead for $11.9 billion in August of 2017.
Belldegrun reaped $600 million on the deal, which stunned the biotech industry and cast a national spotlight on the emerging bioscience sector in Los Angeles.
The deal led to a new subsidiary, Kite, a Gilead Co., which has moved into a new 160,000-square-foot Santa Monica headquarters and announced plans to hire 200 more employees. Belldegrun serves as a strategic advisor and consultant.
He's now focused on his next venture: UroGen Pharma Ltd., a clinical-stage biopharmaceutical company based in Israel, which went public last year. He serves as its chairman of the board.
Belldegrun also serves as chairman and partner of Two River Group Holdings, a New York-based venture capital firm. He also co-founded and is now a partner of Vida Ventures, a venture fund focused on life sciences. Belldegrun also has served on the boards of various global biotech firms.
Belldegrun remains a UCLA professor of urology, holds the Roy and Carol Doumani Chair in Urologic Oncology (see related story, page 32), and still serves as director of the UCLA Institute of Urologic Oncology at the David Geffen School of Medicine.
"There were four or five professors at UCLA that worked with me on several of the companies that I founded," Belldegrun said. "And the most important point is that, despite the fact that many of them are financially comfortable today, are financially comfortable professors, none of them left their academic day jobs as professors at UCLA.
"And that shows you that, in the academic world, it's not about the profit; the money — yes, it's nice it comes with it. But none of
them stopped doing research, running laboratories, treating patients, taking care of patients. I'm still seeing patients once a week at UCLA today."
"And making time from my busy schedule – traveling all over, meetings here, hundreds of employees, you know, with almost 800 employees today – I find time to see patients, and treat patients with cancer at UCLA."
For reprint and licensing requests for this article, CLICK HERE.