Hope's Guiding Hand: CEO of 'Super-Regional' Bank Likes Outlook for Korean-American Market
Business Hall of Fame 2018
Friday, March 23, 2018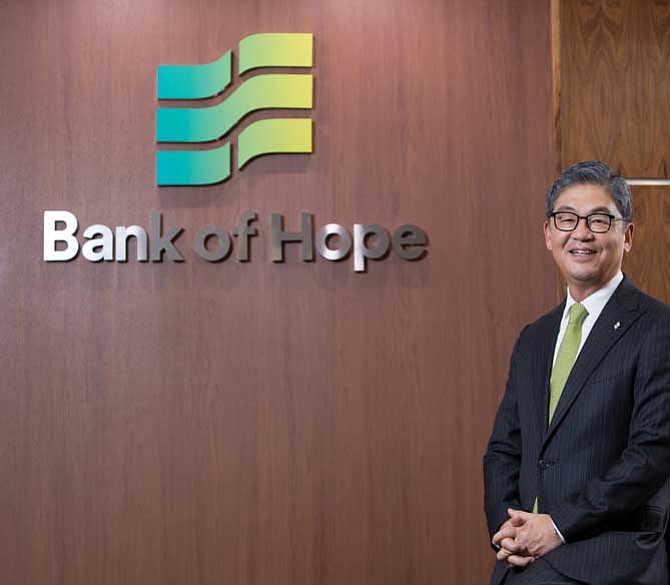 Kevin Kim was an accountant and a lawyer before he got into banking.
He's a full-fledged banker now, thanks to the mark he's making as chief executive of Bank of Hope, an institution with more than $14 billion in assets and a history that helps explain Kim's growing prominence.
Bank of Hope traces its lineage to a merger between Center Bank and Nara Bank – each of which absorbed numerous smaller Korean-American financial institutions before they combined in 2011.
"That was the very first voluntary merger of two Korean-American [banking] organizations," said Kim, who played a key role in the deal as a director of Center at the time. "Before that, there were business combinations, but they were takeovers or matters of necessity for survival. This was two independently viable corporations agreeing to a merger of equals to become more profitable and stronger – and that was the very first transaction of that sort in the Korean-American community" in Los Angeles.
The merger created BBCN, with Kim as chairman and chief executive, and set the stage for an even bigger deal that came to pass in July 2016.
Kim once again played a leading role as BBCN merged with Wilshire Bank. The new entity rebranded as Bank of Hope – and the organization soon was immersed in the nitty-gritty of making the combination work.
"2017 was a year of challenges for Bank of Hope – when two organizations of such size merge there are so many issues," Kim said. "At the same time, we became a much bigger organization. The difference on regulatory requirements and expectations is night-and-day when you get above the $10 billion mark."
The first half of 2017 saw Bank of Hope pour resources into the personnel and infrastructure needed to meet higher regulatory standards while shepherding staff through the melding of corporate cultures.
"People found it difficult to get adjusted in a short period of time," said Kim. "But we began to show the ramp-up in loan originations from the third quarter on. Our profits beat the estimate in the third quarter and in the fourth quarter," on assets.
Bank of Hope finished 2017 as the sixth largest bank in Los Angeles County with $14.2 billion in assets, $139 million in earnings, and a market capitalization of about $2.4 billion. The bank notched solid marks on asset quality and its return on average assets.
Kim's role in hitting those marks while guiding the bank through the merger were highlights in a run that earned him honors as Business Leader of the Year for 2018 in the Finance category during the Business Journal's March 21 Business Hall of Fame Awards luncheon at the Millennium Biltmore hotel.
The merger and strong performance has earned Kim and Bank of Hope reputations that go well beyond Los Angeles.
"What Kevin Kim has been able to do is create the first truly regional Korean-American bank," said Ed Carpenter, founder and chief executive of Carpenter & Co., an Irvine-based firm that advises and invests in banks, including $280 million put into five in Los Angeles and Orange counties over the past decade.
"They've held their numbers quite nicely," Carpenter said. "Their distribution of loans is pretty significant, and they look to be well managed, with the potential to be the dominant Korean-American bank in the U.S."
Kim embraces the challenge.
"As we've gained scale and specialty, in many areas our business has expanded over to other ethnic groups and sometimes to the mainstream," Kim said. "But still, over 50 percent of our customer base and business transactions are somehow affiliated with Korean-American or Asian-American ethnic communities."
The biggest difference these days is scale.
"We call ourselves a super-regional bank because we cover all the major metropolitan areas of the country where there are sizeable Korean-American populations," he said. "We now are in a position to provide products and services that were not possible as a smaller institution."
But don't expect for Bank of Hope to stray too far from its ethnic base even as it plans to scale up more (see related item, Page 3 column).
"We have a very sizeable ethnic customer base – they find it very comfortable to do deal with us," Kim said. "But if we provide only commercial real estate and Small Business Administration loans, then where do they get their mortgages, their credit cards, their wealth management services?"
That's the key that skeptics miss in analyzing the Korean-American banking market, Kim said.
"People say, 'Well, the ethnic markets are saturated, and there are too many banks competing in a limited space,'" Kim said. "And that might be true if you only talk about CRE and SBA lending – but all the other, many financial products and services represent a really good opportunity for an institution like us."
For reprint and licensing requests for this article, CLICK HERE.