Executive Education (March 12): Business Education at The Intersection Of Entrepreneurship, Culture And Theology
Custom Content by the Los Angeles Business Journal
Monday, March 19, 2018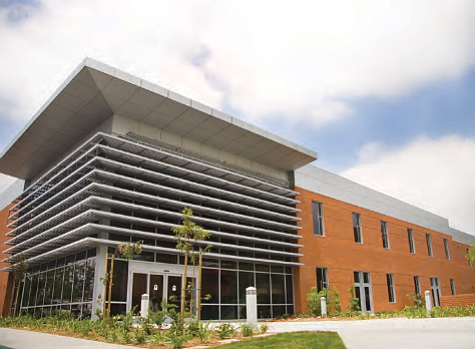 Biola University's Crowell School of Business, now in its 25th year, is one of the nation's leading Christian business schools. Accredited by the ACBSP, Crowell School of Business envisions business education as a means to promote the common good through excellence, ethics and service to others.
For those seeking career preparation, Crowell offers a growing range of undergraduate and graduate degrees. Undergraduate degrees include bachelor of science degrees in Business Administration and Accounting, as well as a fully online BS in Business Management. The graduate division at Crowell offers an MBA, a Master of Professional Accountancy, as well as a Master of Management, Nonprofit Organizations. Each degree program is designed to prepare graduates to lead influentially — shaped by accomplished faculty who are genuinely excited to mentor and coach students, and relevant courses that teach business from a Christian worldview. Unique to the Crowell graduate programs is a mentor program that pairs students with an executive who can speak into their professional aspirations and interests. The mentor program is often cited as a favorite feature of the MBA program since its inception, and Crowell is proud to extend its mentor program across its full graduate program line up.
FOSTERING A SPIRIT OF ENTREPRENEURSHIP
"The Crowell School of Business has always been an innovator in business education, pioneering an approach to business that integrates management and business learning with deep theological and liberal arts coursework," said Dr. Gary Lindblad, Dean of the Crowell School of Business. "But now that innovative and entrepreneurial spirit extends well beyond the classroom, to every student on campus and beyond through a new set of initiatives we've launched."
Beyond the typical classroom, Crowell School of Business kicks off and hosts the annual Biola Startup Competition each fall. Intended to catalyze entrepreneurial thinking, partnership and action across the various academic disciplines at the University, the Biola Startup Competition regularly creates a buzz around campus as students, alumni and friends of the University collaborate on potential new ventures. In-N-Out owner, Lynsi Snyder-Ellingson, was the keynote speaker at the Startup Competition kick-off event this past year. At this event students were challenged as Lynsi commissioned students to live their values in the organizations they launch. "The Startup Competition has been especially attractive to our international students from China, Indonesia and South Korea, as they navigate a world driven by entrepreneurial opportunity," said Dr. Robert Harp, Director of Strategic Initiatives. He adds, "Inspired by the competition, the Biola Entrepreneurship Society was established by a group of students — to create an entrepreneurial community within the student body."
These student leaders run the popular "Fireside Chats with an Entrepreneur" series, featuring startup leaders such as Grant Van Cleve (President of Tech Coast Angels Orange County) and Kohl Crecelius (Co-Founder & CEO, Krochet Kids Intl). Those events combined with practical lessons on design thinking and lean startup development have encouraged students to push and challenge themselves. As a nice pairing to the Biola Startup Competition, the University is the host site of the prestigious Praxis Academy, a one-week intensive and interactive program attracting 200 students from 80 universities nationally, designed to help students explore the intersection of theology, culture and entrepreneurship.
REDEMPTIVE BUSINESS FORUM AND EXECUTIVE EDUCATION
This spring at the Crowell School of Business marks the further expansion of education and training opportunities for the broader business community. With the launch of its Redemptive Business Forum series on March 14, and its first executive education event on April 20 with the topic of change management, Crowell is creating additional professional development and networking opportunities for those who are further along in their career journeys.
The Redemptive Business Forum series will bring together Biola University faculty with experienced business leaders and others to discuss timely business topics and relevant issues. This year's forum will include a guest speaker from Wheaton College speaking on the topic entitled, "Managing Business for Kingdom Impact: The Role of Wisdom."
On April 20, the Crowell School of Business will be offering a professional event for executives to learn how they can lead their businesses through times of change. Through a half-day session, entitled, "Change Management: Practical Stewardship of Your Business and People," accomplished businessmen/professors Jake Aguas and Jeff McHugh will serve as guides through the organizational, emotional, and strategic challenges of navigating a shifting business environment.
For more information about the Crowell School of Business at Biola University, visit www.biola.edu/crowell. To learn more about the upcoming change management seminar, visit www.biola.edu/change-management.
For reprint and licensing requests for this article, CLICK HERE.