New Design in South L.A.
Architecture firms flock to neighborhoods along Expo Line
Friday, March 16, 2018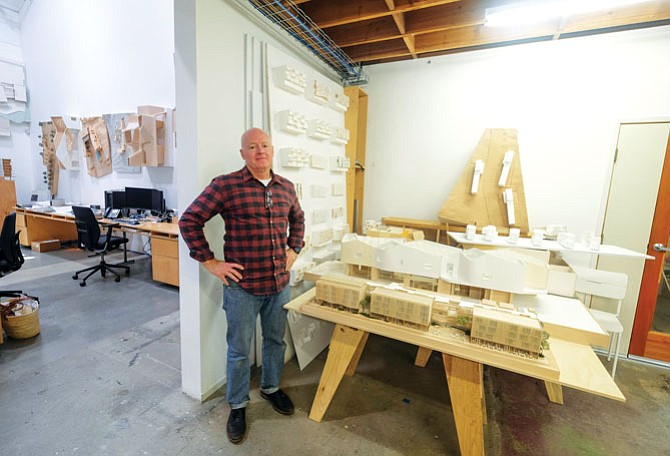 Local architecture and design firms searching for cheaper rents, larger work spaces, historic industrial buildings and easier access for clients and employees are moving to the Crenshaw, West Adams and Leimert Park districts of South Los Angeles.
A prime example: Rios Clementi Hale Studios, which employs about 130 people. The firm moved from Larchmont Village to Leimert Park in 2016 after buying a one-story, 32,000-square-foot industrial property with 42 parking spaces on Exposition Place for $9.4 million, or $293 per square foot.
The studio's projects include Row DTLA, Flight at Tustin in Orange County and the San Francisco Flower Mart. The firm landed in Leimert Park after checking the the Westside, where space is pricey, and encountering other challenges downtown.
"It's really hard to find space downtown that has sufficient parking," said Bob Hale, partner at Rios Clementi Hale. "It's also hard to find space you can afford anymore."
The relocation of such a firm the size of Rios Clementi Hale is part of a trend underway for at least several years.
Neil M. Denari Architects Inc. leases the site of the former Dios International Missionary Church at 4335 W. Adams Blvd. coming from a former space in Culver City. In 2015, architect and USC professor Christof Jantzen paid $550,000 for a 3,300-square-foot property at 4870 W. Adams Blvd. for his Studio Jantzen, which moved from a Venice office.
That same year saw architect Lorcan O'Herlihy pay $1.2 million, or $279 per square foot, for 4106 W. Jefferson Blvd., a one-story, 4,300-square-foot Class C industrial warehouse near West Adams that was built in 1951. It houses his firm, Lorcan O'Herlihy Architects, which moved from the Mid-City area north of the 10 freeway.
He said he found block building with a bow truss ceiling particularly attractive to house his business.
"There are very few of them left in the Los Angeles area," O'Herlihy said.
Kevin Daly Architects leases space at 3617 W. Exposition Blvd, a two-story, 12,600-square-foot Class C industrial building constructed near West Adams in 1965 and renovated in 1993. It's located across the street from the Los Angeles County Metropolitan Transportation Authority's Expo Line's Expo/Crenshaw station.
"It's very central. It's close to everything. It's easy to get to," said Kevin Daly, founder of Kevin Daly Architects.
His firm was based in Santa Monica for years, but Westside rents skyrocketed, forcing his hand. Daly said his firm's old rent in Santa Monica was heading north of $3 per square foot while the space in West Adams goes for under $2.
Prev Next
For reprint and licensing requests for this article, CLICK HERE.