Another Insider for USC?
Interim head of Keck seeks dean's job
Friday, March 16, 2018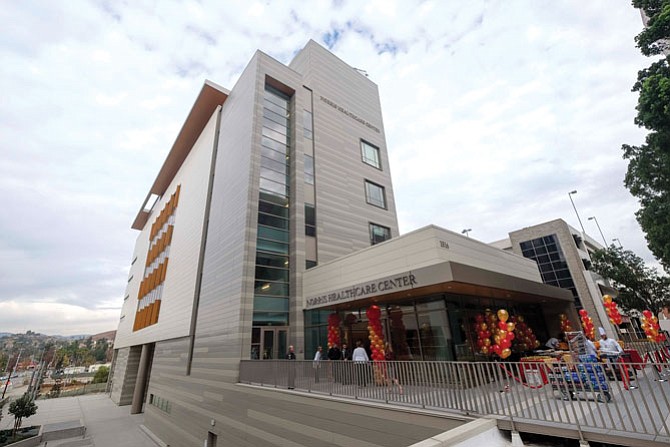 Dr. Laura Mosqueda told administrators she had "zero interest" in a permanent deanship six months ago, when they asked her to run the troubled office in charge of USC's Keck School of Medicine.
The award-winning family physician made an about face in an interview with the Business Journal last week, placing her stethoscope into the ring as a candidate for the top spot at the medical school.
Why the newfound desire to go from interim to permanent head of the school?
"I've had the opportunity to see the role a dean can play in creating an environment where everybody can be their best," said Mosqueda, during an interview at her office at the USC Sciences Campus in Boyle Heights.
Mosqueda would be the first woman dean in the school's 133-year history, and would run the largest medical school in California, if selected at the end of what USC is calling a nationwide search for a new dean.
She'd also step in at a time of crisis for the medical school. The last two deans resigned amid scandal, with allegations of sexual harassment trailing one and allegations of drug use and erratic behavior trailing the other.
Those episodes have played out over the past two years – and appear to have pinched donations to the medical school. Fundraising during the latter half of last year plummeted 55 percent, or $45 million, according to a Los Angeles Times report. Overall donations to the USC fell by a reported 22 percent, or nearly $100 million, over the same period.
Mosqueda said that some self-reflection by the institution was necessary, but that the medical school is as strong as ever.
"My biggest thing is we need to learn from any mistakes that we've made," Mosqueda said. "There's no need to demonize people. But there is a need to take an honest look at ourselves. And then move forward. What's interesting to me is, we never missed a beat."
Turbulent times
USC's Keck School of Medicine, founded in 1885, now hold the No. 33 spot on the US News and World Reports 2017 ranking of medical schools in the nation. It is the largest educator of physicians practicing in Southern California, with nearly 800 medical students, 900 resident physicians and 1,000 more students pursuing graduate and postgrad degrees.
The school received $174 million last year in federal health grants.
But the medical school has been tarnished by the scandals tied to its recent deans.
Dr. Carmen Puliafito, dean of the USC medical school from 2007 to 2016, had earned a salary of $1 million a year before stepping down after he was found with a 21-year-old woman who had overdosed in a Pasadena hotel room he rented. He then surrendered his medical license after a series of Los Angeles Times stories led to allegations of methamphetamine and other drug use while he ran the medical school and treated patients.
Puliafito was replaced by Dr. Rohit Varma, who resigned last fall after a 2003 disciplinary report surfaced that included allegations he sexually harassed and then retaliated against a female colleague.
Trojan ties
Into this storm stepped Mosqueda, a native Angeleno and second-generation USC medical school graduate with professional bonafides as an administrator, professor, elder-care advocate and family and geriatric physician.
She grew up in the Fairfax District and is an alumna of what is now the Keck School of Medicine, as are her physician parents, Drs. Harold and Gloria Frankl.
Mosqueda had previously served USC medical school in several positions: as chair of the school's family medicine department; as associate dean of its primary care program; and director of its center studying elder abuse, a position she held after founding the first elder abuse forensic center in the nation.
Mosqueda continues to practice medicine as interim dean. She also serves as a faculty advisor for a student-run clinic, and occasionally joins students on Skid Row and at women's shelters to provide urgent care.
"Do the right things for the right reasons," she said. "Do my best. Stay focused on what's important. These are three principles that have served me well."
Critical care
Representatives of some other local health care institutions see a return to strong leadership at USC medical school as critical.
"We work very closely with physicians across the county," said Gustavo Friederichsen, chief executive of the Los Angeles County Medical Association. "We support, defend and protect doctors. The resident students at USC our part of our family. It's critically important to have good leadership there."
While there is no hard timeline for a decision about deanship, according to the USC provost's office, administrators at USC-affiliated hospitals who met Mosqueda were impressed.
"Dr. Mosqueda has shown strong interest in learning about and partnering with Children's Hospital Los Angeles," said Paul S. Viviano, the institution's chief executive. "She visited our campus recently to meet with faculty and she made a wonderful impression on the CHLA community. We look forward to a continued positive working relationship."
Mosqueda said she's conducted a kind of administrative triage since her appointment as interim dean in October. She has looked and listened – and her diagnosis is that the school – despite its recent traumas – was in excellent health.
"Our education is going strong," she said. "Our research is going strong … I've heard people are proud of this institution. Happy to be here. And want to help make it greater. That we have some things to fix – and that we can fix them. Together."
For reprint and licensing requests for this article, CLICK HERE.