Commercial Real Estate Awards 2018: Best Multi-Family Project
Custom Content by the Los Angeles Business Journal
Thursday, March 8, 2018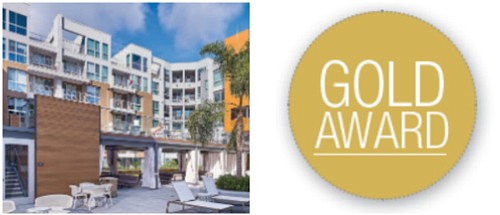 AVALON WEST HOLLYWOOD
Location: 7316 Santa Monica Boulevard, West Hollywood, CA 90046
Size: 131,700 sf
Developer: AvalonBay Communities Inc.
Contractor: AvalonBay Communities Inc.
Architect: MVE + Partners, Inc.
Avalon West Hollywood offers a multi-generational urban lifestyle that embraces the energy of its surrounding movie industry neighborhood and the vibrant street-life of Santa Monica Boulevard. The exteriors are designed in a contemporary modern style, conveying the spirit and urban character of West Hollywood. At street-level, the development enhances the existing urban fabric with a public central plaza and pedestrian mews, neighborhood serving retail, and a Trader Joes market. The community consists of three individual buildings that sit atop a common 2.5-level subterranean garage. The first building, known as Movietown Square, features 77-units of much needed affordable senior housing above the Trader Joes market. The community offers extensive resident amenities, including a media center, gym, and roof top deck with community gardens. Located across the public plaza are the two market-rate buildings which are connected via an iconic bridge element. The bridge, which orients residents towards the Hollywood Hills, also acts as a mediating piece that reconciles the difference in architecture of the two buildings.
Location: 11405 Chandler Blvd., North Hollywood, CA 91601
Size: 141,330 sf
Developer: Micropolitan LLC
Contractor: Frymer Construction
Architect: KFA Architecture
Micropolitan's seven-story nVe Apartments is located in the heart of North Hollywood across the street from the Metro Orange Line terminus and one block from the Red Line terminus. The project sits at the north end of the expansive North Hollywood Park, giving the building a high profile and verdant views to the south from its residential floors. nVe's design takes full advantage of its prime, Central Park-like site, creating a clean urban wall as a backdrop to the park.
For reprint and licensing requests for this article, CLICK HERE.