Commercial Real Estate Awards 2018: Best Mixed Use Project
Custom Content by the Los Angeles Business Journal
Wednesday, March 7, 2018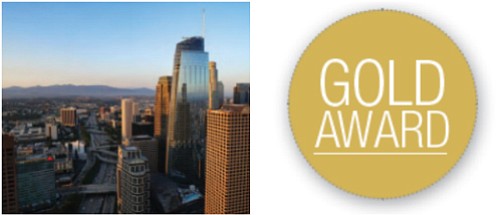 WILSHIRE GRAND CENTER
Location: 900 Wilshire Blvd., Los Angeles, CA 90017
Size: 1,500,000 sf
Developer: Martin Project Management
Contractor: Turner Construction Company
Architect: AC Martin Partners, Inc.
In the heart of downtown Los Angeles, the new Wilshire Grand Center rises, the tallest building west of the Mississippi. It was Korean Airlines' (developer/anchor tenant) vision to create an iconic tower - a symbol of the friendship between South Korea and the U.S. The InterContinental Hotel and office tower is configured to maximize views of Santa Monica, the Pacific Ocean and LA's acclaimed sunsets to the southwest and the Hollywood Hills and the San Gabriel Mountains to the north. Los Angeles' energy and vibrancy is literally at the building's feet - allowing guests and visitors to tap into the Metro system and the city's vast freeway network to explore. The hotel design embodies three main organizing criteria: 1) Shape the project around LA's unique climate by blurring the line between indoors and out, maximize natural light and vistas; 2) Seamlessly tap into DTLA's transformative character; 3) Offer visitors a collection of workplaces and leisure spaces that included the plaza below and the 'city in the sky' above.

Location: 3939 S. Figueroa Street, Los Angeles, CA 90037
Size: 506,000 sf
Developer: LAFC (Los Angeles Football Club) Stadium Co., LLC
Contractor: PCL Construction Services, Inc.
Architect: Gensler
This state-of-the-art Banc of California Stadium is the future home of the Los Angeles Football Club (LAFC). The new 22,000-seat facility is located in Exposition Park, anchoring the Figueroa corridor and capitalizing on great skyline views. An emphasis on the game-day experience aims to capture a more personal relationship between players and fans by creating an intimate European-style character. Significant ancillary programmatic elements offer entertainment, retail and dining opportunities to stadium-goers.
For reprint and licensing requests for this article, CLICK HERE.